CHESTER W. GATES, JR., CDR, USN
From USNA Virtual Memorial Hall
Lucky Bag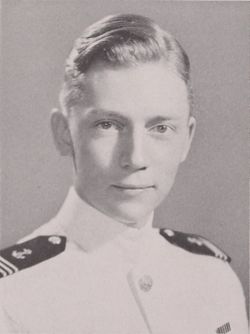 From the 1943 Lucky Bag:
CHESTER WRIGHT GATES, JR.

Baldwin City, Kansas

Time is precious and must be used to the best advantage." On this motto, "Pearly" based his activities. His creative ability placed him on the Ring Committee and the Lucky Bag Staff. He was occupied during the winter months by the Masqueraders. Soccer, sailing and softball were his sports; stamp collecting his pet hobby. As he excelled in academics, he had much time to follow his activities. In spite of their diversity, he was never too busy to help a classmate over the snags of academics. A red mike most of the time, he could still hold his own with the snakes when necessity demanded.
He was a member of the LOG staff and also the Lucky Bag staff.
The Class of 1943 was graduated in June 1942 due to World War II. The entirety of 2nd class (junior) year was removed from the curriculum.
Life & Loss
Unable to find any information about Chester's life or loss. Find A Grave says he was lost in 1963, but provides no details or basis for this.
Other
Chester survived the crash of his F9F-2B Panther in 1951 when he failed to pull out of a practice strafing run and hit a tree.
He was commanding officer of Attack Squadron (VA) 86 from May 1955 until September 1956.