GROVER B. WINDHAM, JR., CDR, USN
From USNA Virtual Memorial Hall
Lucky Bag
From the 1943 Lucky Bag:
Loss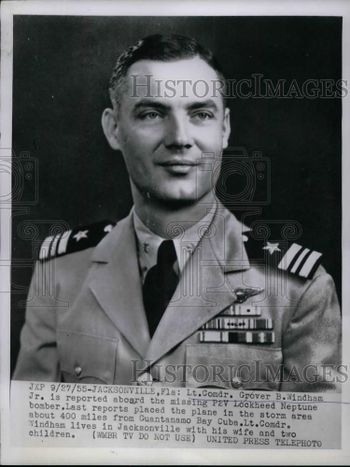 From the Class of 1943 anniversary book "25 years later…":
Windy was born on 6 January 1921 at Fairfield, Alabama. He was appointed from Alabama and entered the Academy on 28 July 1939. Upon graduation he re ported to the cruiser USS PORTLAND which participated in the initial landing in the Solomon Islands, the Battle of Eastern Solomons, Santa Cruz, Savo Island, Kiska Invasion, Marshall and Gilbert Island Invasions. In 1945, WINDY put the cruiser USS BREMERTON on commission and spent 1946 in the Far East. Flight Training followed in 1948 followed by duty with Patrol Squadron Five. Duty in Advanced Training Command and Carrier Division Four followed. Windy then performed flying duties in Early Air Warning Squadron Four.

It was during this duty that he lost his life in a plane crash in the Caribbean Sea during Hurricane Janet on 26 September 1955. WINDY wore the Navy Unit Citation Ribbon, the American Defense Service Medal with Fleet Clasp, American Area Campaign Medal, Asiatic-Pacific Area Medal with nine Bronze Stars, WWII Victory Medal, Occupation Medal (Asia), China Service Medal, the Philippine Independence Medal and the Korean Defense Medal. He is survived by his wife, Nancy McAdams and their children, Nancy Elizabeth and John Franklin. Nancy is now wife of John Haynie, Windy's classmate.
From Find A Grave:
Grover B. Windham graduated from the US Naval Academy with the class of 1943. Due to WWII, the class graduated a full year early, in June, 1942. His home of record at the time was Fairfield, Alabama.

He served throughout WWII and eventually went into Naval Aviation. In 1955, he was part of the group known as "Hurricane Hunters" and in command of the 9 man crew of the plane known as "Snowcloud Five". On 26 September of that year, the plane was lost, while tracking Category Five Hurricane Janet. LCDR Windham had been based at Naval Air Station, Jacksonville, Florida. He was survived by a wife and two children.
He was in command of a P2V-3W Neptune. More details about the loss are in this articleat Weatherwise.
Grover is one of 84 members of the Class of 1943 on Virtual Memorial Hall.
The "category" links below lead to lists of related Honorees; use them to explore further the service and sacrifice of the alumni in Memorial Hall.