WILLIAM J. MANBY, JR., CDR, USN
From USNA Virtual Memorial Hall
Birthdate & Date of Loss
| | |
| --- | --- |
| Date of birth: | November 14, 1920 |
| Date of death: | August 1, 1955 |
| Age: | 34 |
Lucky Bag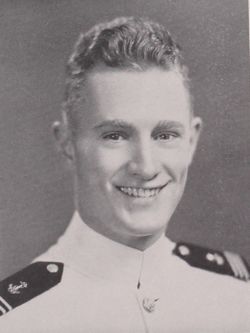 From the 1943 Lucky Bag:
WILLIAM JOHN MANBY, JR.

South Bend, Indiana

There never has been and there never will be a more clean-cut, congenial, and straightforward fellow to graduate from the academy than Bill Manby. His sincerity and pleasing personality have made him one of the most popular fellows in the class. Bill's knowledge of sports has been a source of increasing wonder to us—he is virtually a walking encyclopedia of the sport world. But he has not confined his interest to the sporting page; for Bill has done a fine job at wrestling. After starting from scratch during plebe summer, he worked up to varsity by youngster year. He has fallen for more than one girl while here and he never seemed to have much trouble in helping the gals make up their minds; they just couldn't resist those sparkling blue eyes.
He was a member of the wrestling team.
The Class of 1943 was graduated in June 1942 due to World War II. The entirety of 2nd class (junior) year was removed from the curriculum.
Loss
Unable to find exact details of his loss, but evidence points to his loss in a F7U-3 Cutlass (BuNo 129673) on August 1, 1955. He had only recently assumed duties as the commanding officer of Attack Squadron (VA) 66, in June. In July the squadron was re-designated from Fighter Squadron (VF) 81.
He is buried in Arlington National Cemetery.
Other
From US Naval Aviation History:
27 JANUARY [1955] • Lt. Cmdr. William J. Manby Jr. of VF-33 set an unofficial time-to-climb mark by reaching 10,000 feet from a standing start in 73.2 seconds in an FJ-3 Fury at NAS Oceana, Va.
Related Articles
Wilfred McNeil, Jr. '43 was also lost while serving as commanding officer of Attack Squadron (VA) 66.