CLARENCE ENGLAND, LT, USN
From USNA Virtual Memorial Hall
Lucky Bag
From the 1894 Lucky Bag:
Loss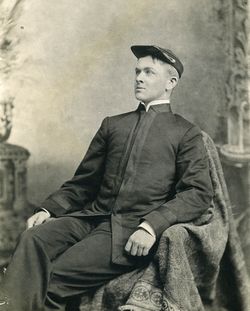 Clarence was lost on July 28, 1906 when he was struck by a bullet while on the bridge of USS Chattanooga (Cruiser No. 16) in the port of Chefoo, China. The bullet had been fired from a French cruiser in the port while conducting small arms practice.
He was navigator of Chattanooga; the ship was leaving harbor at the time.
He was survived by his parents and is buried in Arkansas.
Note
The photo above is in the biography of Admiral Joseph Reeves, with this caption:
Footballers of '94

This picture is historic for several reasons. It shows the intra-mural football team of the class of 1894, although five of the men were varsity football stars, too. The Captain, J.M. Reeves, holding the ball wears the first football helmet ever used in a game. It was made for and worn by Reeves in the encounter from which the team pictured here had just emerged victorious, but not without a few scars. The chap sitting in front center is the American novelist Winston Churchill. Top Row, L-R: Roscoe Spear, Charles Webster, R.C. Moody, Frank Lyon Middle Row: Clarence England, Leland James,J.M. Reeves, A.G. Cavanagh, G.E. Gelm Front Row: W. Pitt Scott, Winston Churchill, C.S. Bookwalter.
Clarence is one of 2 members of the Class of 1894 on Virtual Memorial Hall.