CLARENCE F. BLAIR, LT, USN
From USNA Virtual Memorial Hall
Birthdate & Date of Loss
| | |
| --- | --- |
| Date of birth: | unknown |
| Date of death: | July 1, 1944 |
| Age: | unknown |
Lucky Bag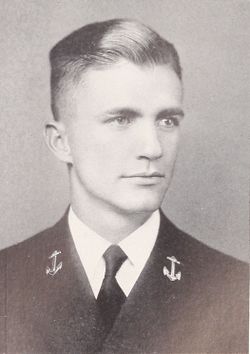 From the 1940 Lucky Bag:
CLARENCE FREDERICK BLAIR

Arriba, Colorado

When you see a tall, lanky individual, a grin splitting his face from east to west, tripping lightly as a hippopotamus along the corridor, get ready for almost anything, because here comes Kelly! If he strolls past you, visions of his latest love cloud his mind. If he rushes up to you, prepare yourself for an account of the love he is about to contact. On the serious side, Kelly is unexcelled in the thorough manner in which he pursues an aim, once he has decided to follow it. And at the present time, that aim is to be a Naval Officer. Best of luck. Kelly! Resiliency and cheerfulness promise success.
Loss
Kelly was lost in an aircraft accident in the Pacific on July 1, 1944.
His wife was listed as next of kin.