BRUCE T. SIMONDS, CDR, USN
From USNA Virtual Memorial Hall
Birthdate & Date of Loss
| | |
| --- | --- |
| Date of birth: | November 27, 1918 |
| Date of death: | October 16, 1952 |
| Age: | 33 |
Lucky Bag
From the 1941 Lucky Bag:
BRUCE THOMAS SIMONDS

Seattle, Wash.

When Buce left the hills of Seattle for what Uncle Sam had to offer, he did so whole-heartedly. That is his way. Never anything but sincere with all that concerns him, Bruce has a pleasant nature, that makes him a friend of all. After knowing him for awhile, we are quite sure of the intelligence which his modesty and serious application tend to hide. Never have we seen anyone who can set a goal and work so steadfastly to attain it.

Gym made him "Suicide." And when he does that half twist, we know why! Yes, gym is his love here, and to be an Intercollegiate Champion is not a bad reward.

"Suicide" stars at the hops when he is not stagging or on a gym trip. We wonder sometimes what he is going to substitute for the parallel bars in the fleet, for we suspect the sea is in his blood. We hope it is, and here's luck to you, fellow, though you are not one to depend on it too much.

Gym 4, 3, 2, 1, N*, Captain '41; Lucky Bag; Company Representative 4, 3, 2.
The Class of 1941 was the first of the wartime-accelerated classes, graduating in February 1941.
Loss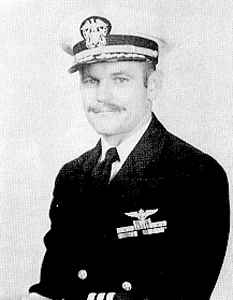 From Find A Grave:
USNA Class of 1941, Commander Simonds was a decorated veteran of World War II. In Korea, he was the Commanding Officer of Attack Squadron 702 and the pilot of an AD-4L Skyraider dive bomber aboard the carrier USS KEARSARGE (CVA-33). On October 16, 1952, his plane crashed on take-off. He could not get himself free from his parachute and drowned.
He had taken command on December 6, 1951.
His wife survived him; she later remarried to a 1936 Naval Academy graduate who retired as a Vice Admiral.
Distinguished Flying Cross
From Hall of Valor:
(Citation Needed) - SYNOPSIS: Commander Bruce Thomas Simonds (NSN: 0-100250), United States Navy, was awarded the Distinguished Flying Cross (Posthumously) for extraordinary achievement while participating in aerial flight while serving as Commanding Officer of Attack Squadron SEVEN HUNDRED TWO (VA-702), embarked in U.S.S. KEARSARGE (CV-33), on 26 September 1952.

General Orders: All Hands (April 1954)
Action Date: September 26, 1952
Service: Navy
Rank: Commander
Company: Attack Squadron 702 (VA-702)
Division: U.S.S. Kearsarge (CV-33)
Note
Have included him in the Korea category as he was departing on a combat mission when he was lost.