BRUCE T. SIMONDS, CDR, USN
From USNA Virtual Memorial Hall
Lucky Bag
From the 1941 Lucky Bag:
Loss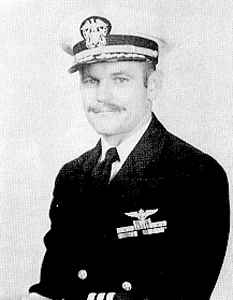 From Find A Grave:
USNA Class of 1941, Commander Simonds was a decorated veteran of World War II. In Korea, he was the Commanding Officer of Attack Squadron 702 and the pilot of an AD-4L Skyraider dive bomber aboard the carrier USS KEARSARGE (CVA-33). On October 16, 1952, his plane crashed on take-off. He could not get himself free from his parachute and drowned.
He had taken command on December 6, 1951.
His wife survived him; she later remarried to a 1936 Naval Academy graduate who retired as a Vice Admiral.
Distinguished Flying Cross
From Hall of Valor:
(Citation Needed) - SYNOPSIS: Commander Bruce Thomas Simonds (NSN: 0-100250), United States Navy, was awarded the Distinguished Flying Cross (Posthumously) for extraordinary achievement while participating in aerial flight while serving as Commanding Officer of Attack Squadron SEVEN HUNDRED TWO (VA-702), embarked in U.S.S. KEARSARGE (CV-33), on 26 September 1952.

General Orders: All Hands (April 1954)
Action Date: September 26, 1952
Service: Navy
Rank: Commander
Company: Attack Squadron 702 (VA-702)
Division: U.S.S. Kearsarge (CV-33)
Memorial Hall Error?
Bruce is listed on the killed in action panel in the front of Memorial Hall. While not an obvious error, inclusion on the panel for crashes like this (incidental to combat flights) has been inconsistent across WWII, the Korean War, and the Vietnam War.
Bruce is one of 60 members of the Class of 1941 on Virtual Memorial Hall.