BRUCE T. SIMONDS, CDR, USN
From USNA Virtual Memorial Hall
Date of birth: November 27, 1918
Date of death: October 16, 1952
Age: 33
Lucky Bag
From the 1941 Lucky Bag:
Loss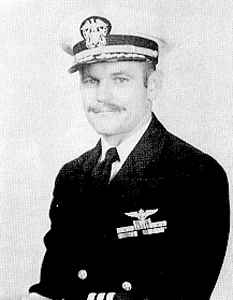 From Find A Grave:
USNA Class of 1941, Commander Simonds was a decorated veteran of World War II. In Korea, he was the Commanding Officer of Attack Squadron 702 and the pilot of an AD-4L Skyraider dive bomber aboard the carrier USS KEARSARGE (CVA-33). On October 16, 1952, his plane crashed on take-off. He could not get himself free from his parachute and drowned.
He had taken command on December 6, 1951.
His wife survived him; she later remarried to a 1936 Naval Academy graduate who retired as a Vice Admiral.
Distinguished Flying Cross
From Hall of Valor:
(Citation Needed) - SYNOPSIS: Commander Bruce Thomas Simonds (NSN: 0-100250), United States Navy, was awarded the Distinguished Flying Cross (Posthumously) for extraordinary achievement while participating in aerial flight while serving as Commanding Officer of Attack Squadron SEVEN HUNDRED TWO (VA-702), embarked in U.S.S. KEARSARGE (CV-33), on 26 September 1952.

General Orders: All Hands (April 1954)
Action Date: September 26, 1952
Service: Navy
Rank: Commander
Company: Attack Squadron 702 (VA-702)
Division: U.S.S. Kearsarge (CV-33)
Note
Have included him in the Korea category as he was departing on a combat mission when he was lost.
Bruce is one of 59 members of the Class of 1941 in Memorial Hall.