RICHARD E. LEARY, COL, USAF
From USNA Virtual Memorial Hall
Lucky Bag
From the 1941 Lucky Bag:
Loss
Richard was lost on April 25, 1952 when the aircraft he was piloting crashed near Easton, Maryland. He is buried in Arlington National Cemetery.
He transferred to the Army Air Forces in March 1942.
Wartime Service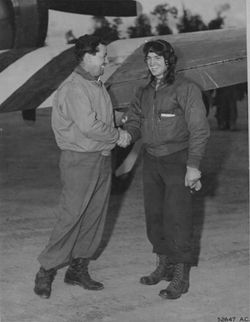 Richard was a pilot of the P-47 Thunderbolt and serving as the operations officer for the 368th Fighter Group in June 1944. He had three confirmed aerial kills in combat, in December 1944 and January 1945.
Capt. Richard Leary was seriously injured while riding with the 3rd Armor by a German 88mm shell, Leary was hospitalized in England for 2 months before he was able to return to the group.
He was a forward air controller at the time.
On the last mission of the day 16 planes of the 397th FS gets a call for urgent support of troops holding St. Vith. They find a strong enemy column about a mile from St. Vith with numerous tanks and trucks. The 397th attacked decimating the advancing column and preventing the capture of St. Vith. Major Dick Leary made eight solo strafing passes under heavy AA fire destroying several armored vehicles and was awarded the Silver Star.
From 368th Fighter Group:
Major Leary was shot down by a FW-190 on 14Jan45 near Mannheim, Germany and became a POW.
Silver Star
From Hall of Valor:
(Citation Needed) - SYNOPSIS: Major (Air Corps) Richard E. Leary, United States Army Air Forces, was awarded the Silver Star for conspicuous gallantry in action against the enemy while serving with the NINTH Air Force in the European Theater of Operations during World War II.

General Orders: Headquarters, 9th Air Force, General Orders No. 37 (1945)
Action Date: World War II
Service: Army Air Forces
Rank: Major
Division: 9th Air Force
From Hall of Valor:
The President of the United States of America, authorized by Act of Congress July 9, 1918, takes pleasure in presenting a Bronze Oak Leaf Cluster in lieu of a Second Award of the Silver Star to Lieutenant Colonel (Air Corps), [then Major] Richard E. Leary, United States Army Air Forces, for gallantry in action as a member of the 397th Fighter Squadron, 368th Fighter Group, NINTH Air Force. Lieutenant Colonel Leary distinguished himself in connection with military operations against an armed enemy in the European Theater of Operations in the vicinity of Neudstadt, Germany, on 14 January 1945. On three separate occasions, Colonel Leary turned back to engage an overwhelming force of more than forty enemy fighters, which were attacking his flights. With utter disregard for personal safety, he repeatedly attacked to divert and disrupt the enemy's intentions, and to enable his squadron to reform to a defense formation. Before being "bracketed in" by twelve enemy fighters, and receiving damage to his aircraft, Colonel Leary had destroyed two enemy aircraft. The gallantry and heroism displayed by Colonel Leary reflect great credit on himself and the Army Air Forces.

General Orders: Department of the Army, General Orders No. 32 (May 7, 1948)
Action Date: January 14, 1945
Service: Army Air Forces
Rank: Lieutenant Colonel
Company: 397th Fighter Squadron
Regiment: 368th Fighter Group
Division: 9th Air Force
Distinguished Flying Cross & Bronze Star
His gravestone also indicates he was awarded the Distinguished Flying Cross and the Bronze Star, but unable to find citations.
Richard is one of 60 members of the Class of 1941 on Virtual Memorial Hall.