FRANK WELCH, JR., CDR, USN
From USNA Virtual Memorial Hall
Birthdate & Date of Loss
| | |
| --- | --- |
| Date of birth: | 1918 |
| Date of death: | October 29, 1951 |
| Age: | ~33 |
Lucky Bag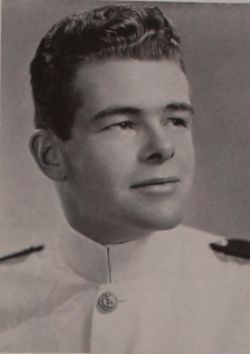 From the 1941 Lucky Bag:
FRANK WELCH, JR.

San Diego, Calif.

A Californian by sentiment and a New Englander by fact, this curly-browed lad combines the swagger of the former and the cold shrewdness of the latter with pleasing results. Conservative in taste as well as in thought and thoroughly logical in all action, Frank never finds time nor occasion to be governed by mood.

His casual lack of concern leaves him unscarred by the raging wars sponsored by the Academic Department. Physically he boasts of a Scotch ruggedness that dates back to sea-faring warriors of note. The lure of the water doubtless accounts for a strong tendency to crew, though his love for a full pipe of raw tobacco and a love to philosophize with said pipe in hand has kept him from assuming the role of the serious athlete. Couple this with an even-tempered disposition and you have an insight to the reason for his many friends and no enemies. . . .

Boat Club 4, 3, 2; Battalion Basketball 4, 3; Battalion Crew 4, 2; Company Representative 3, 2.
The Class of 1941 was the first of the wartime-accelerated classes, graduating in February 1941.
Loss
Frank was lost on October 29, 1951 when his F9F Panther "crashed into the sea from the landing pattern."
He was commanding officer of Fighter Squadron (VF) 111, embarked in USS Valley Forge (CV 45) since October 1951 and bound for the Korean War. He had been in command since only June 6, 1951.
He has a memory marker in California.
Other
Frank was a 1950 graduate of Caltech.