ULMONT I. WHITEHEAD, JR., ENS, USN
From USNA Virtual Memorial Hall
Birthdate & Date of Loss
| | |
| --- | --- |
| Date of birth: | 1919 |
| Date of death: | December 7, 1941 |
| Age: | ~22 |
Lucky Bag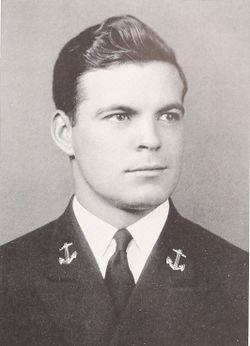 From the 1940 Lucky Bag:
ULMONT IRVING WHITEHEAD, JR.

Hartford, Connecticut

Years of exacting labor have failed to submerge Whitey into the drudgery of tedious detail. He dreams of the day to be when he will be able to carry out his ideas — ideas that will prove exceedingly beneficial to all those to whom they may be applied. He meets every situation with a determination and whole-heartedness that sees it successfully through to the end, realizing that to completely enjoy one's life, one must live it. Meeting each reverse with more than enough energy to turn it to victory, Whitey will soon be pushing himself to his rightful position of prominence at the top of the heap.
Loss
Whitey was lost in USS Arizona (BB 39) during the attack on Pearl Harbor on December 7, 1941.
His father was listed as next of kin.
Remembrance
From Durham (Connecticut) Patch on December 7, 2011:
If you've ever gotten off of I-91 at the Capitol Area exit, you've traveled on a connector two-thirds-of-a-mile long from 91 to Pulaski Circle. During the last part of that journey, you pass through a tunnel beneath the Hartford Public Library below Main Street.

Most people are unaware of two things during that brief journey: 1. That connector really covers the Park River — that's why the tunnel is there; and 2. That stretch of road is named after Hartford native and U.S. Naval Academy football star Ulmont Irving Whitehead — the first Hartford resident to die during World War II.

"Monty" Whitehead was a member of the Naval Academy's Class of 1940. Prior to attending the academy, Whitehead had graduated from Hartford's Bulkeley High in the Class of 1933; additionally, he had spent three years in the Navy before obtaining an appointment to Annapolis. His father, Ulmont "Ully" Whitehead Sr., operated a repair garage on New Britain Avenue. The Whiteheads were well-liked by their neighbors. One neighbor related the following story:

In 1944, when a hurricane blew down a willow in our back yard, Ully Whitehead backed his big tow truck between the houses, attached a length of cable to the tree, threw the winch motor into gear and pulled the huge tree upright. It lived for another 30 years.

Monty Whitehead was a star football player for three years at Annapolis. A three-year letterman, Whitehead led Navy in receiving in 1938 and kicked the winning field goal in Navy's 13-7 victory over Army in 1939 before a crowd of more than 100,000. He also played a key role in Navy's victory over Notre Dame on Oct. 21, 1939, before a crowd exceeding 80,000, as this excerpt from the Spartanburg Herald-Journal on Sunday Oct. 22, 1939, clearly demonstrates:

The midshipmen, checkmated on the ground, took to the air with a desperate passing attack in the final period and clicked for a 64 yard touchdown on an aerial from red-haired Bob Leonard, substitute halfback, to Ulmont Whitehead. Whitehead took the 34 yd heave on the Irish 30, outraced 2 Notre Damers to the goal line, and then kicked the extra point.

After graduation, Whitehead eventually was assigned to BB 39 — the battleship USS Arizona. Monty Whitehead was one of seven members of the Class of 1940 to be assigned to the ill-fated Arizona. One can only speculate where he was on the ship when a Japanese bomb found the forward munitions magazine. The force of the explosion was so enormous that the mighty ship was partially lifted out of the waters of Pearl Harbor.

The attack on Pearl Harbor began just before 8 a.m. Two waves of Japanese planes consisting of 353 aircraft launched from six aircraft carriers carried out the raid. The attackers sank or heavily damaged 16 ships, including 8 battleships; also, 188 aircraft were destroyed. Overall, 2,402 Americans were killed and more than 1,200 were wounded. The Japanese lost only 29 aircraft and 5 midget submarines for a casualty total of 65 killed or wounded.

Ulmont I. Whitehead was one of 17 Connecticut men killed at Pearl Harbor that morning. He was Hartford's first casualty of the war and one of 1,177 men on the Arizona to die that fateful morning — almost half of the fatalities incurred that day. His remains are entombed on the ship along with 6 other members of the Naval Academy's Class of 1940.

Three other members of the Class of '40 died that morning on the USS Oklahoma. In total, 76 members of the Naval Academy's Class of 1940 were to lose their lives in World War II — one of the largest casualty totals in the school's history. Philip R. Devlin