DOUGLAS HEIN, LCDR, USN
From USNA Virtual Memorial Hall
Birthdate & Date of Loss
| | |
| --- | --- |
| Date of birth: | January 21, 1920 |
| Date of death: | June 5, 1946 |
| Age: | 26 |
Lucky Bag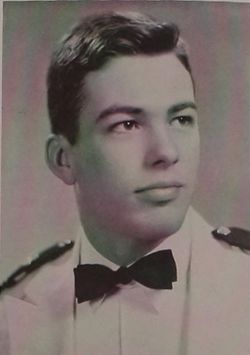 From the 1941 Lucky Bag:
DOUGLAS HEIN

Coronado, Calif.

Doug, as a Navy junior, naturally did a great deal of traveling before he came into the Academy. His globe-trotting, which included such places as Hawaii and Japan, did much to give Doug a natural worldliness and a broad point of view.

Two years without so much as a slight quarrel with his roommate is evidence enough that it's easy to get along with Doug. He had some early academic troubles, but before the four years were up he had jumped nearly two hundred numbers in class standing. His hobby is photography. He has mastered perfectly the incomprehensible lingo of "pancuroniatic-duosensitivity" (or something that sounds equally mysterious)—and incidentally he takes good pictures. His sport is rifle, and his success with a gun is borne out by the number of medals on his full dress jacket.

Two of his traits have impressed his roommate most. The first is his love for imaginative fiction, which he reads profusely. The second, is his ability to enjoy a long shower followed by a good nap.

Indoor Rifle 4, 1; Outdoor Rifle 4, 3, 2, 1; Trident 4, 3, 2, Secretary 1; Pistol.
The Class of 1941 was the first of the wartime-accelerated classes, graduating in February 1941.
Obituary
From Find A Grave:
Douglas Hein was a survivor of the sinking of the U.S.S. Arizona, but tragically lost his life later in military service.

Douglas was born in California to Captain Herbert Ross Hein and Cornelia VanVorst Hein. With an upbringing on Naval bases around the world, Douglas chose to follow his father's lead, attending the Naval Academy. Records show he was a well-liked and successful student, and an expert marksman. He received his commission as Ensign in the U.S. Navy on 7 Feb 1941, and was serving aboard the U.S.S. Arizona (BB-39) when the Japanese bombed Pearl Harbor.

Here is his official report after the attack:

"I left the J.O. Mess at General Headquarters. As I went to the boat deck, I noticed that some of the starboard A.A. guns were firing. I think they were the forward ones. Then I went up to the signal bridge. I looked around and saw that there was nothing that I could do. I saw the admiral on the signal bridge. I then went up to the nav bridge. The only people up there were the captain, the quartermaster, and myself. The quartermaster asked the captain if he wanted to go into the conning tower but the captain did not want to, making phone calls. Suddenly the whole bridge shook like it was in an earthquake, flame came through the bridge windows which had been broken by gunfire. We three were trying to get out the port door at the after end of the bridge during all this shaking, but could not. We staggered to the starboard side and fell on the deck just forward of the wheel. Finally I raised my head and turned it and saw that the port door was open. I got up and ran to it, and ran down the port ladders, passing through flames and smoke. Then I climbed half way down the signal bridge ladder and had to jump to the boat deck as it was bent way under. Then I climbed down a handrail to the galley deck. The flames and smoke on the boat deck and galley deck were decreasing in intensity; I believe they were powder flames. I walked aft and down the ladder to the port quarterdeck. Then I walked to the other side and down the officers' ladder to the barge."

Though he didn't mention this in his official report, Douglas was wounded during the initial blast. He was awarded the Purple Heart.

Tracking the service record for Douglas after Pearl Harbor has been difficult, as no active duty muster rolls are found for him within the military database. However, previously classified documents that were released on 31 December 2012 (as part of the 'War Diaries') provide a glimpse into his activities. A chronology, gleaned from these documents, is as follows:

Feb 1941 to Dec 1941, served as Ensign aboard the U.S.S. Arizona.
Jan 1941 to May 1943, unknown.
Jun 1943 to 12 Feb 1944, served as Lieutenant aboard the U.S.S. Iowa (BB-61). Signed 'War Diary' reports for Jun, Jul, Aug, Sep, and Oct. Reports were not found for Nov, Dec or Jan. Transfer documented on Report of Changes for 12 Feb 1944.
12 Feb to 15 Feb 1944, transported aboard U.S.S. Nehenta Bay (CVE-74) to U.S.S. Indiana (BB-58).
15 Feb 1944 to 7 Apr 1944, temporarily served as Lieutenant aboard U.S.S. Indiana. Transfers documented on Report of Changes for these dates.
May 1944 to May 1945, unknown, but possibly Naval flight school.
Jun 1945 to 11 Sep 1945, served as Lieutenant Commander with U.S. Pacific Fleet Bomber Fighter Squadron Five. Classified duty both in squadron leadership and as a pilot are documented in corresponding 'War Diary' reports.
12 Sep 1945, transferred to the Commander, Air Force, Pacific Fleet, for further assignment. Documented in the 'War Diary' report for Bomber Fighter Squadron Five dated 9 Oct 1945.

Douglas was assigned as a pilot with the crew of the U.S.S. Antietam soon after he reported to the Commander of the Pacific Fleet. This ship served in a support capacity to American troops after the cessation of hostilities in Japan, maneuvering between Okinawa and Chinese waters near Shanghai. Douglas was killed in the Sea of Japan when his aircraft did not have enough power to climb again after a landing failure. The plane skidded overboard, only to be run over by the ship. His body was not recovered.

Douglas is honored on the list of survivors inscribed at the U.S.S. Arizona Memorial in Honolulu, Hawaii, and on the Tablets of the Missing in Manila, the Philippines. Like many who survived the bombing of the U.S.S. Arizona, Douglas chose to remain in service, fighting in remembrance and honor of his lost comrades. His dedication, and his sacrifice, were great. Evelyn Park Blalock