FLOYD CUMMINGS, MAJ, USMC
From USNA Virtual Memorial Hall
Birthdate & Date of Loss
| | |
| --- | --- |
| Date of birth: | August 4, 1916 |
| Date of death: | April 13, 1946 |
| Age: | 29 |
Lucky Bag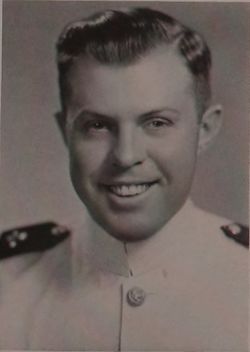 From the 1941 Lucky Bag:
FLOYD CUMMINGS

Cleveland, Miss.

Willie's high school days were filled with football and debating, not to mention cotton farming on the side. But in spite of being born and reared on a cotton farm, curiosity plus that old call of the sea, led Willie eastward. After graduating from a junior college, where he continued his football and debating—but not his cotton farming—Willie entered the Naval Academy.

As a plebe, Willie decided to try his hand at crew, which limited his football to playing on the battalion team (which, incidentally, won the regimental championship that year). Academics interfered a little with crew youngster year, but second elass year also found Willie on the Christmas Card Committee, which selects the regimental Christmas card.

It didn't lake Willie long to catch on to the system and second class summer saw him in command of a company. Always loud in his praises of the South and particularly of the Magnolia State, Willie is a firm believer in the Southern way of life.

Battalion Football 4, 2; Crew 4, 2, 1; Christmas Card Committee 2, 1; Company Pistol 3.
The Class of 1941 was the first of the wartime-accelerated classes, graduating in February 1941.
Loss
Floyd was lost on April 13, 1946 at or near Quantico, Virginia, while stationed with "AirEngSqn12." His loss was listed as "accidental death;" unable to find any further details.
Unable to find any other mention of "AirEngSqn12."
Floyd is buried in Mississippi.
Wartime Service
Floyd was the commanding officer of Marine Scout Bombing Squadron (VMSB) 133 from March 9, 1945 through the end of the war.
From Facebook:
Stationed at Mangaldan airfield the squadron bombed and strafed enemy supplies and troops in the Clark Field vicinity and other targets of opportunity. April 21 the squadron moved to Malabang, Mindanao, under the command of Maj. Floyd Cummings.

It was during this time that VMSB-133 earned praise from local guerilla forces citing their remarkable accuracy in bombing and strafing during very close air-supported operations. During June and July the squadron continued to harass the Japanese by almost ceasless bombing and strafing missions in preparation for a landing in Sarangani Bay area

In the middle of July, VMSB-133 received the order for decomissioning of the unit on August 1, 1945.
Silver Star
From Hall of Valor:
The President of the United States of America takes pleasure in presenting the Silver Star to Major Floyd Cummings (MCSN: 0-7181), United States Marine Corps, for conspicuous gallantry and intrepidity as Commanding Officer of Marine Scout Bombing Squadron ONE HUNDRED THIRTY-THREE (VMSB-133), Marine Aircraft Group TWENTY-FOUR in action against enemy Japanese forces over Nichols Field, Luzon, Philippine Islands on 12 February 1945. Withdrawing from an air attack over Manila when he received an emergency call form ground forces pinned down by enemy fire from a hangar on Nichols Field, Major Cummings led his fight in determined low level bombing runs despite intense antiaircraft fire to destroy the enemy stronghold, thereby enabling the troops to advance and reach the objective. In addition, he contributed to the success of the squadron through his work as Air Coordinator. His leadership, initiative and devotion to duty were in keeping with the highest traditions of the United States Naval Service.

General Orders: Commander 7th Fleet: Serial 05718
Action Date: February 12, 1945
Service: Marine Corps
Rank: Major
Battalion: Marine Scout Bombing Squadron 133 (VMSB-133)
Regiment: Marine Aircraft Group 24
Distinguished Flying Cross
From Hall of Valor:
(Citation Needed) - SYNOPSIS: Floyd Cummings (MCSN: 0-7181), United States Marine Corps, was awarded the Distinguished Flying Cross for extraordinary achievement while participating in aerial flight in action against enemy Japanese forces in the Pacific War Area during World War II.

General Orders: Heroes U.S. Marine Corps 1861 - 1955 (Jane Blakeney)
Action Date: World War II
Service: Marine Corps