JAMES H. MCPHERSON, LCDR, USN
From USNA Virtual Memorial Hall
Birthdate & Date of Loss
| | |
| --- | --- |
| Date of birth: | April 29, 1919 |
| Date of death: | August 13, 1945 |
| Age: | 26 |
Lucky Bag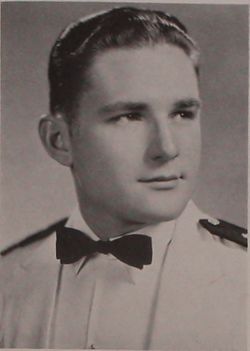 From the 1941 Lucky Bag:
JAMES HAUHUTH McPHERSON

Vallejo, Calif.

Jim is a real outdoorman and a true son of the West. Deep down in his heart is ever the longing and yearning to roam through the canyons and over the hills of sunny California, gun in hand, ready to shoulder and fire at the distant sight of that pair of horns which thrills the nerves of every huntsman. Much of the evening's study period is spent in the wilds of that Western state rather than in the grim realities of the next day's lessons. But Jim can afford to dream, for he has been free from academic worries ever since he threw away his French grammar.

His love of action and outdoor life have made him an active participant in athletics. Each afternoon finds him working hard at one of those sports in which his tireless energy and perseverance have won many points for the Gold and Blue. May he shoot as squarely when behind the guns of the Fleet as he has here with his tennis racket, his epee, and with his classmates.

Fencing 4, 3, 2, 1 N*, Captain; Tennis 4, 3, 2 N.
The Class of 1941 was the first of the wartime-accelerated classes, graduating in February 1941.
Loss
From Find A Grave:
Having become a Naval Aviator, by Summer of 1945, LCDR McPherson was attached to the Squadron VF-16, based on the USS RANDOLPH (CV-15), flying a Grumman F6F-5 Hellcat (BUNO 77830). His aircraft was lost in Shikoku (Empire Area) on 13 AUG 1945, just two days before the announcement of the intended surrender of the Japanese. He was officially declared dead on 16 August 1946
He was shot down "likely over Tokyo Bay."
His parents were listed as next of kin.
Silver Star
From Hall of Valor:
The President of the United States of America takes pride in presenting the Silver Star (Posthumously) to Lieutenant James Hauhuth McPherson (NSN: 0-100312), United States Navy, for conspicuous gallantry and intrepidity in action while serving as Pilot of a carrier-based Navy Fighter Plane in Fighting Squadron SIXTEEN (VF-16), attached to the U.S.S. RANDOLPH (CV-15), in the bombing of the enemy battleship HYUGA in Kure Harbor on 24 July 1945. He skillfully and courageously piloted his aircraft in a bombing attack in the face of intense anti-aircraft fire scoring a hit with his bomb which contributed materially to the sinking of the ship. His skill and courage were at all times in keeping with the highest traditions of the United States Naval Service.

General Orders: Commander in Chief Pacific: Serial 033727 (August 27, 1945)
Action Date: 24-Jul-45
Service: Navy
Rank: Lieutenant
Company: Fighting Squadron 16 (VF-16)
Division: U.S.S. Randolph (CV-15)