DAVID K. CLAUDE, LTCOL, USMC
From USNA Virtual Memorial Hall
David Kerr Claude was admitted to the Naval Academy from Illinois on August 4, 1920 at age 17 years 5 months.
He resigned on February 16, 1923.
Lucky Bag
On the "Parted Links" page:
D. K. CLAUDE, Maryland

Dave likes the "Gyrene" life he is leading in San Domingo, but he's a damn good fellow for the Navy to send into the Marine Corps.
Loss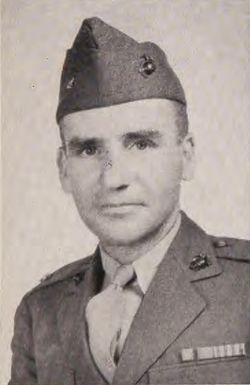 David was killed in action against the Japanese on November 22, 1943 during the Battle of Tarawa. He was temporarily attached to the 2nd Marine Division as a Senior Observer; he was the commanding officer of the 1st Battalion, 23rd Marines, which was training in California at the time. He took command of the Battalion in January 1943 and was referenced as "everyone's favorite Battalion commander" in this history.
His wife was listed as next of kin. John is buried in the Naval Academy Cemetery.
Silver Star
From Hall of Valor:
The President of the United States of America takes pride in presenting the Silver Star (Posthumously) to Lieutenant Colonel David Kerr Claude (MCSN: 0-3963), United States Marine Corps, for conspicuous gallantry and intrepidity in action as military observer attached to the SECOND Marine Division during action against enemy Japanese forces on Tarawa, Gilbert Islands, November 20-22, 1943. Constantly subjected to a devastating barrage of enemy rifle and machine gun fire while proceeding to the beach in a landing boat, Lieutenant Colonel Claude sighted a number of seriously wounded men in danger of drowning. Unhesitatingly exposing himself to the direct line of hostile fire, he valiantly plunged into the treacherous waters, repeatedly swimming distances of from 30 to 75 yards in order to bring the man back to his own boat from which they were transferred to other craft for medical attention. Finally gaining the beachhead after successfully completing his perilous act, Lieutenant Colonel Claude gathered information vital to subsequent operations before he was killed by enemy fire while proceeding on an important mission to a forward command post. His splendid initiative, great personal valor and unrelenting devotion to duty in the face of grave peril directly contributed to the saving of many lives and were in keeping with the highest traditions of the United States Naval Service. He gallantly gave his life for his country.

General Orders: CITATION:
Service: Marine Corps
Rank: Lieutenant Colonel
Division: 2d Marine Division
David is one of 41 members of the Class of 1924 on Virtual Memorial Hall.