PHILIP V. WEEMS, JR., MAJ, USMCR
From USNA Virtual Memorial Hall
Date of birth: July 21, 1916
Date of death: July 1, 1943
Age: 26
Philip Van Horn Weems, Jr. was admitted to the Naval Academy from Tennessee on June 21, 1935 at age 18 years 11 months. This admission was with the Class of 1939.
On June 4, 1936 he was "Deficient in studies for first term. Continued with class until end of academic year. Also deficient in studies for second term. Recommended to be dropped. Permitted to resign. Readmitted with class of 1940." His readmission date was given as August 17, 1936, at age 20 years 1 month.
On February 11, 1938 he was "Deficient in studies, first term's work. Recommended to be dropped. Permitted to resign."
Lucky Bag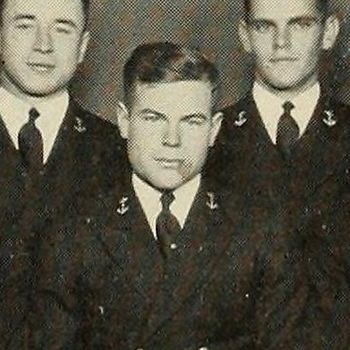 Philip van Horn Weems, Jr. is listed on the page "And Some We Knew."
Loss
Philip Van Horn Weems, Jr., was lost, probably on July 1, 1943 (or possibly on June 29 or 30), likely on New Zealand, due to an "accidental death." (Some sources have killed in action). He was commanding officer of C Battery, 3rd Special Weapons Battalion, 9th Marines until that unit was detached from the 9th Marines shortly before he died. (From "The Ninth Marines, a brief history of the Ninth Marine Regiment:" "Shortly before the Ninth left New Zealand [on June 29, 1943], its reinforcing units were returned to their original organizations…" His company was assigned to the 9th Marines on January 1, 1943. His battalion was a part of the 3rd Marine Division.)
His niece (grand niece?) spoke with a historian in Annapolis, Denise Robinson, and provided a few fragments of information. She mentioned that the loss was possibly due to a jeep accident, but also that it occurred in Guam. Guam cannot possibly be correct; that island was in Japanese hands and an American invasion didn't occur for over a year after his death.
The jeep accident portion appears to be accurate, though; his father wrote that he understood Philip's death to be "largely an accident involving the motorized equipment in which he was moving."
He has a memory marker in the Naval Academy Cemetery and is buried in Hawaii.
Family Newspaper
In the July 1, 1943 (inaugural) issue of Weemsana, a "family newspaper devoted to gathering and disseminating news of the descendants of the late Joseph Burtha Weems and Bessie Rye Weems:"
Bee [Phil's younger brother, George "Bee"]… reported that he visited with Phil on New Zealand before he left there, and now has independent command of a battery of artillery. Phil's address is: C Battery, 3rd Spc. Wpns. Bn., 9th Marines, c/o Fleet Post Office, San Francisco, California. Herewith a quotation from one of Phil's letters to his Dad:

"You would like to have been with us for the last week, I'm sure. Remember the time you made the rice butting when you, B [note: younger brother George "Bee" Weems] and I went camping in California? Some general in our outfit must have been spying on us, for out latest training practically forced me to imitate your recipe. We were sent off on a three-day, 40 mile hike with heavy packs, half a sock of rice, and half the same of raisins. That was what we had to live on for the trip with two slices of bacon each meal for a teaser. If they will give me a few fish heads to practice on I should make an ideal Jap prisoner! My feet are full of blisters, needless to say. I tried to convince the Col. that my unit should make the hike in vehicles but the trick to keep me from walking didn't go over so well.

"As a unit commander, I believe I'm getting along fairly well. I'm too easy on the men but I hae a tough exec to even matters up. All of my J.O.'s are very new so I have to be the "voice of experience." It gives me real pleasure to try and train the J.O.'s to do the work without orders from me. One more year with them and I wouldn't have to do any work except to sign my name all day on the too numerous paper work we have to turn in. My unit has an excellent record to date so we are under pressure to keep it that way. Had an inspection by the Regimental C.O. the other day and with much luck and a few tricks of the trade we "turned out the best unit inspected so far in this country." One of the officers had listed all the Col.'s "pet hates" and what he had noticed wrong with previous units in his inspection tour. By specializing on the things most likely to be noticed we covered ourselves with glory. Naturally, I gave all hands (including myself) the day off."

Phil is C.O. of an Antitank Battery of Artillery, and also commands an AA Platoon on New Zealand.
On the following page he is listed as a Captain, USMC.
In the October 1, 1943 issue:
This issue of Weemsana calls for its first sad announcement -- the death in line of duty of Major Philip Van Horn Weems Jr., USMC, somewhere in the South Pacific. Phil, as he was known to all of us, was promoted to Major on the day of his death, and at the time was Commanding Officer of an Antitank Battery of Artillery of the 9th Marines. Not much is known concerning the details of Phil's death. Following is a quotation from Uncle Van's [Phil's father, serving as a convoy Commodore] letter of July 28, 1943: "On my return from a two-months' voyage to North Africa, I learn of Philip's death about a month ago with his mechanized outfit in the South Pacific. I don't know much of the details, but I think his death was largely an accident involving the motorized equipment in which he was moving. Thus it happens that my oldest boy is the first one of the next generation to go in this big conflict. I remember when it started that according to the law of chance we would have to lose probably two or three of our group by death and perhaps three or four wounded before this is over. As tough as it is for Margaret and me and all of us, I feel we are merely one of millions who will suffer the same sorrow on these occasions."

Phil attended the US Naval Academy in 1939, and the University of Virginia after where we was a member of the Phi Kappa Psi Fraternity and majored in Journalism. He entered the Officer's Training School at Quantico, Va. in August, 1941, from which he was soon commissioned a 2nd Lieut. in the Marine Corps. He would have been 27 years old July 21.
In the July 1, 1945 issue there was a proposal for all of the Weems descendants to donate their veterans discharge bonus in Philip's name to the family educational fund. Notably, it gave his date of death as July 1, 1943.
Special thanks to Tom Poche, a volunteer who visited the Tennessee State Library and Archives and reviewed several of the dozens of boxes of Phillip Van Horn Weems, Sr.'s personal letters and papers.
Other Information
From historian Richard Leonard via email on July 13, 2018:
The date of death is interesting in that 29 June 1943 was the day the 9th Marines loaded up in transports in New Zealand for passage to Guadalcanal, arriving there on 7 July. The 9th Regiment did not go into action until 1 November 1943 in the invasion of Bougainville. See Strobridge, Truman R., A Brief History of the 9th Marines, Historical Branch, G-3 Division, Headquarters, U. S. Marine Corps, 1967, Page 4:

"Sailing aboard the USS Mt. Vernon for New Zealand on 24 January 1943, the 9th Marines (Reinforced) arrived in Auckland on 5 February and disembarked two days later. Because of the lack of accommodations, separate camp sites were assigned for each of the major regimental units; a distance of 20 miles separated Headquarters, which was located at the Pukekohe race course, from the most distant battalion. Jungle warfare training, several 60-mile hikes, and practice in the seizure of a beachhead, occupied the Marines until they loaded aboard five transports on 29 June [my emphasis] bound for Guadalcanal, Solomon Islands."
From Find A Grave:
He shared a name with his father, and at least one other military officer, of Civil War era. I suspect he was one who had the misfortune of being born into a military family, without the temperament for it. His father had been attracting attention since his days lettering in multiple sports, including 3 years lettering, in football, at the US Naval Academy, from which he graduated in 1912. The son was appointed to USNA and arrived there on 21 June, 1935, from the state of Tennessee, and at the age of 18 years and 11 months. He was originally in the class of 1939. After struggling, he was allowed to push back to 1940, but ended up resigning in February of '39. His younger brother came along and excelled at everything, to put it mildly. It must have been very difficult for young Philip to have to compete with that. I wish I had more to say about him.
Denise Robinson, the Annapolis historian, agrees with this view, as does this author.
Philip is listed in the 1941 edition of the "Register of Commissioned and Warrant Officers of the United States Marine Corps Reserve:" 2LT Philip Van Horns Weems, Jr., date of rank August 17, 1940; prior service for the purposes of pay: 0 years/months; accepted commission on September 5, 1940; date of birth as above (July 21, 1916); training notes 25 (Completed course of training, platoon leaders' class) and 28 (Completed Reserve officers' course. Marine Corps schools.)
Family
His father, Philip, Sr., USNA '12, was an aviation pioneer, inventor of navigational methods and instruments, and author of navigation textbooks.
Philip's younger brother, George Weems '42, was lost in an aircraft crash in 1951.
On July 10, 2018 emailed Philip's grandniece (George's granddaughter). Emailed a Find A Grave user identifying himself as Philip's cousin on March 4, 2019.
Memorial Hall Error
Philip is not listed with his classmates. He was identified through the diligent efforts of Leslie Poche, a volunteer who combed through Shipmate issues to find operational losses not accounted for in Memorial Hall.
Though we lack the details on his exact loss, we are basing our recommendation to include him on:
The Marine Corps overseas casualties list's description of his loss as an "accidental death." (When a serviceman died of some kind of illness or disease, he is noted as having "died.")
A article on his father describes Phil, Jr. as "killed in the South Pacific."
The history of the Class of 1940 says "Major Phil V. Weems, USMC, [was] killed in action in the Pacific area."
The Register of Alumni has his name in bold lettering, indicating killed in action (and also 6/30/1943).
His father's obituary in the July-August 1979 issue of Shipmate, which concludes: "He was predeceased by two sons, Maj. Philip V .H . Weems USMC '40 , killed in combat during World War II, and Cdr. George T. Weems USN '42, lost in an aircraft accident in 1951."

The June 1946 issue of Shipmate, which listed every alumni known to have died from 1941 - 1945, gives "Major, USMC. Died prior to 2 July 1943. South Pacific area."
Further Research
The "3rd Marine Division War Diary, 6 September 1942 - September 1943" in the National Archives would most likely include some details on the loss of a company commanding officer; Philip's loss should also be recorded in the "3rd Marine Division Casualty Reports, 1943 - 1945"
The "Register of Commissioned and Warrant Officers of the United States Navy and Marine Corps" was published annually from 1815 through at least the 1970s; it provided rank, command or station, and occasionally billet until the beginning of World War II when command/station was no longer included. Scanned copies were reviewed and data entered from the mid-1840s through 1922, when more-frequent Navy Directories were available.
The Navy Directory was a publication that provided information on the command, billet, and rank of every active and retired naval officer. Single editions have been found online from January 1915 and March 1918, and then from three to six editions per year from 1923 through 1940; the final edition is from April 1941.
The entries in both series of documents are sometimes cryptic and confusing. They are often inconsistent, even within an edition, with the name of commands; this is especially true for aviation squadrons in the 1920s and early 1930s.
Alumni listed at the same command may or may not have had significant interactions; they could have shared a stateroom or workspace, stood many hours of watch together… or, especially at the larger commands, they might not have known each other at all. The information provides the opportunity to draw connections that are otherwise invisible, though, and gives a fuller view of the professional experiences of these alumni in Memorial Hall.
April 1941
2nd Lieutenant, Battery B; Marine Corps reserve, 1st Battalion, 11th Marines
Philip is one of 91 members of the Class of 1940 on Virtual Memorial Hall.