JOHN R. PIERCE, LCDR, USN
From USNA Virtual Memorial Hall
Lucky Bag
From the 1928 Lucky Bag:
Biography
From Wikipedia:
Born in Cristobal, Panama Canal Zone, Pierce graduated from the United States Naval Academy in 1928. Following flight training and submarine instruction, he served in submarine USS S-29 and studied marine engineering at the University of California. After serving in USS Nautilus (SS-168) and USS Narwhal (SS-167), he assumed command of USS S-23 (SS-128) 15 February 1941. Appointed Lieutenant Commander 2 January 1942, Pierce on 22 June took command of USS Argonaut (SM-1), a transport submarine, which participated with Nautilus in carrying out the famed, diversionary Makin Raid from 17 to 19 August.

On her third war patrol in the Southwest Pacific, Argonaut sighted an enemy convoy protected by planes and destroyers. Built as our first large minelaying submarine, she lacked proper submerged maneuverability during combat operations. When detected, she came under a vicious enemy attack. The gallant Argonaut surfaced and pressed home an aggressive counterattack, severely damaging a Japanese destroyer before succumbing to heavy enemy fire 10 January 1943. For his demonstration of courageous leadership and unyielding devotion to duty Lt. Comdr. Pierce was posthumously awarded the Navy Cross.
From Fleet Organization:
Duty USS Nautilus (SS-168) 1 Jan 1939 - 1 Oct 1939
Executive Officer USS Narwhal (SS-167) 1 Jul 1940 - 4 Jan 1941
Captain USS S-23 (SS-128) 28 Feb 1941 - 1 Apr 1942
Captain USS Argonaut (SS-166) 1 Jul 1942 - 10 Jan 1943
Lieutenant 1 Jul 1936
Lieutenant Commander (T) 1 Jan 1942
Lieutenant Commander 1 Mar 1942
Loss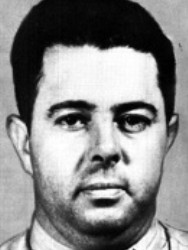 John was lost when USS Argonaut (APS 1) was sunk by a Japanese surface forces near Rabaul on January 10, 1943.
His wife was listed as next of kin. He has a memory marker in Maryland.
From Hall of Valor:
The President of the United States of America takes pride in presenting the Navy Cross (Posthumously) to Lieutenant Commander John Reeves Pierce (NSN: 0-6209), United States Navy, for extraordinary heroism and distinguished service in the line of his profession as Commanding Officer of the U.S.S. ARGONAUT (SS-166), on 10 January 1943, during the THIRD War Patrol of that vessel. Upon sighting a hostile convoy escorted by destroyers and aircraft, Lieutenant Commander Pierce, while maneuvering his ship to a favorable striking position, discovered that the ARGONAUT her self had been detected and had fallen prey to vigorous antisubmarine measures on the part of the enemy. Fighting desperately to extricate his ship and her crew from a critical encounter, he pressed home an aggressive counter attack on the surface, severely damaging a Japanese destroyer before his own vessel, her guns still blazing defiantly, eventually went down under a deadly concentration of enemy fire. His courageous leadership and unyielding devotion to duty were in keeping with the highest traditions of the United States Naval Service.

Service: Navy
Rank: Lieutenant Commander
Division: U.S.S. Argonaut (SS-166)
Namesake
USS John R. Pierce was named for John; the ship was sponsored by his widow.
John is one of 17 members of the Class of 1928 on Virtual Memorial Hall.