CARLTON B. HUTCHINS, LT, USN
From USNA Virtual Memorial Hall
Lucky Bag
From the 1926 Lucky Bag:
Biography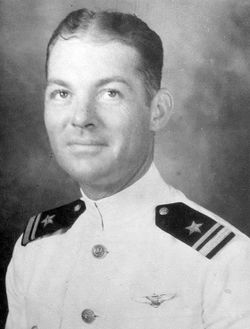 From Naval History and Heritage Command:
Carlton Barmore Hutchins was born on 12 September 1904 in Albany, New York. He was appointed to the U.S. Naval Academy from that state and graduated in June 1926. As a newly commissioned Ensign, Hutchins served on board the battleship Pennsylvania, then attended aviation courses at the Naval Academy and flight training at Naval Air Station, Pensacola, Florida. After receiving his aviator designation in February 1929 Ensign Hutchins was assigned to the aircraft carrier Saratoga, serving with Bombing Squadron Two-B and Fighting Squadron Six-B. In June 1929, he was promoted to Lieutenant (Junior Grade). In the Summer of 1931, he returned to Pensacola as an instructor. The following year, Hutchins began study at the Naval Postgraduate School and continued his higher education at the California Institute of Technology at Pasadena, from which he received a Master of Science degree.

In the Summer of 1934, Lt(JG) Hutchins reported to Scouting Squadron Five-B on board the light cruiser Memphis and transferred a year later to Scouting Squadron Six-B on the light cruiser Concord. In June 1936, he was promoted to Lieutenant and assigned to Naval Air Station, Anacostia in Washington, D.C. Hutchins next served with Patrol Squadron Seventeen, operating with the seaplane tender Thrush. In November 1937, he transferred to Patrol Squadron Eleven, based on the tender Langley. On 2 February 1938, while piloting a PBY-2 in a tactical exercise off the southern Californian coast, he collided with another VP-11 PBY-2. Exhibiting courage and coolness, Lt. Hutchins remained at his badly damaged plane's controls, allowing members of his crew to parachute to safety, but was killed in the plane's subsequent crash. For his "extraordinary heroism" on this occasion, he was posthumously awarded the Medal of Honor. Carlton B. Hutchin's remains were not recovered.
From the New York Times on August 4, 1938:
For the first time in more than-four years the Medal of Honor, awarded to United States soldiers, sailors and marines for extraordinary heroism in the line of duty, was awarded posthumously to Lieutenant Carlton B. Hutchins, U. S. N., who was a native of Albany, N. Y.
From Hall of Valor:
The President of the United States of America, in the name of Congress, takes pride in presenting the Medal of Honor (Posthumously) to Lieutenant Carlton Barmore Hutchins, United States Navy, for extraordinary heroism as the Pilot of the U.S. Navy Seaplane PBY-2 No. 0463 (11-P-3) while engaged in tactical exercises with the U.S. Fleet on 2 February 1938 of the California coast. Although his plane was badly damaged, Lieutenant Hutchins remained at the controls endeavoring to bring the damaged plane to a safe landing and to afford an opportunity for his crew to escape by parachutes. His cool, calculated conduct contributed principally to the saving of the lives of all who survived. His conduct on this occasion was above and beyond the call of duty.
Namesake
USS Hutchins (DD 476) was named for Carlton; the ship was sponsored by his widow.
Carlton is one of 36 members of the Class of 1926 on Virtual Memorial Hall.