HUGH W. HADLEY, CDR, USN
From USNA Virtual Memorial Hall
Lucky Bag
From the 1922 Lucky Bag:
Loss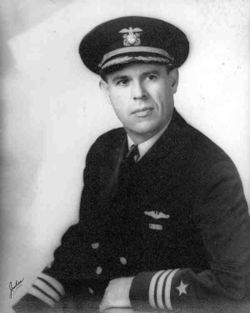 Hugh was lost when USS Little (APD 4) was sunk was sunk near Guadalcanal by Japanese surface forces early in the morning of September 5, 1942. He was embarked as the commander of Transport Division 12.
His wife was listed as next of kin; he was also survived by two daughters. Hugh has a memory marker in Oregon.
Biography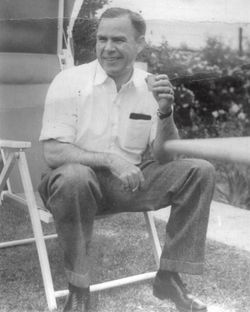 From Wikipedia:
Hugh William Hadley was born 17 February 1901 at Moro, Oregon, and was appointed to the Naval Academy in 1918. Commissioned Ensign 29 May 1922, he served on board many ships, including Pennsylvania and S-27, and various shore stations in the prewar years. After serving as Executive Officer of Roper 1936-1939 and on board Maryland 1941-1942, he was appointed Commander and assigned to command Transport Division 12 in the Pacific. Hadley's attack transports made nightly runs into Guadalcanal to support American troops there, and while on board Little 5 September 1942 Hadley was surprised by three Japanese destroyers off Lunga Point. His outgunned ship fought valiantly, but was sunk along with attack transport Gregory. Commander Hadley was killed in the action and was posthumously awarded the Silver Star for his outstanding performance in the bitter Solomons campaign
Silver Star
From Hall of Valor:
The President of the United States of America takes pride in presenting the Silver Star (Posthumously) to Commander Hugh William Hadley (NSN: 0-57581), United States Navy, for conspicuous gallantry and intrepidity as Commander of Transport Division TWELVE during action against enemy Japanese forces in the Solomon Islands for the period from 7 August to 5 September 1942. Under frequent air, surface and submarine attack by a desperate and persistent foe, Commander Hadley, although handicapped by limitation of fire power and reduction of armament, successfully disembarked troops during initial landing operations and thereafter fed vital reinforcements and supplies to the Tulagi and Guadalcanal garrisons. During the tense period prior to development of our own local air facilities, he and his command were continually subjected to vigorous Japanese bombardment while operating in logistic support of our established positions. Subsequently conducting night patrols and furnishing anti-submarine screen for cargo vessels, Commander Hadley, by his superb seamanship and heroic devotion to duty, contributed materially to the success of our strategic operations in the island area. He gallantly gave up his life in the service of his country.

Service: Navy

Namesake
USS Hugh W. Hadley (DD 774) was named for Hugh; the ship was sponsored by his widow.
Hugh is one of 27 members of the Class of 1922 on Virtual Memorial Hall.