ROBERT E. GOODGAME, JR., CDR, USNR
From USNA Virtual Memorial Hall
Lucky Bag
From the 1932 Lucky Bag:
Loss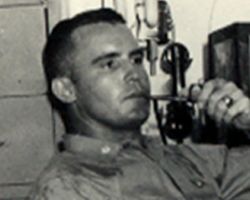 From USS Kadashan Bay (CVE 76) History:
On 27 Jan [1945], the ship's executive officer, CDR Robert E. Goodgame, Jr. and the ship's medical officer, CDR M. V. Kappius, disappeared on a routine familiarization flight in a Dauntless Dive Bomber (SBD). No enemy activity was reported in the area and no trace was ever found of the men.
His wife was listed as next of kin.
Unable to find other information on his service. Two of three mentions found have his service as "USNR."
Robert is one of 52 members of the Class of 1932 on Virtual Memorial Hall.