RICHARD S. MOSS, CAPT, USN
From USNA Virtual Memorial Hall
Lucky Bag
From the 1924 Lucky Bag:
Loss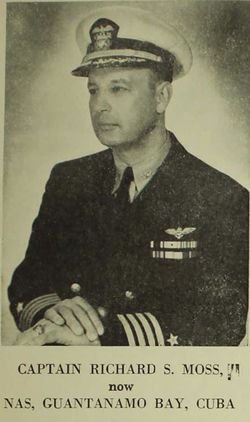 From The Sandusky Register of Sandusky, Ohio, on Saturday, December 28, 1946:
CAPT. RICHARD MOSS. U.S.N. NORWALK, Dec. 28—Word was received here of the tragic death of Captain Richard Moss, 45, of the United States naval air corps, in a plane crash over Guantanamo Bay Cuba, Dec. 26. The body was recovered and will be flown to Washington for burial in Arlington Cemetery. No other details are available as Captain Moss was flying alone at the time. His father, Col. James A. Moss, retired army officer, who with Mrs. Moss has been living in Sarasota, Fla., is flying to Cuba and will return to Washington with the body. In the meantime his mother, Mrs. Moss, formerly Kate Kellogg will go to Fayetteville, N. C. where her other son, Romaine win accompany her to Washington. Captain Moss graduated from Norwalk High school with the class of 1920, and from the Annapolis Naval Academy in 1924. On the day of his graduation, he was united in marriage to Miss Louise Bean, Baltimore, who also survives. There are no children. During World War II, he served on the airplane carrier Block Island and for the past nine months has been commander of the naval base at Guantanamo. A month ago, he was decorated by the Cuban government for saving the town of Guantanamo from destruction by fire.
Richard is buried in Arlington National Cemetery.
Wartime Service
Richard was commanding officer of USS Solomons (CVE 67) beginning in January 1945.
Richard is one of 41 members of the Class of 1924 on Virtual Memorial Hall.