JOHN C. WALDRON, LCDR, USN
From USNA Virtual Memorial Hall
Date of birth: August 21, 1900
Date of death: June 4, 1942
Age: 41
Lucky Bag
From the 1924 Lucky Bag:
Loss
From Find A Grave:
US Navy WW II Aviator. He was born at Fort Pierre, South Dakota, graduated from the U.S. Naval Academy in 1924 and became a Naval Aviator in 1927. In 1941 he was Lieutenant Commander and became Commanding Officer of Torpedo Squadron Eight (VT-8) to serve on the new aircraft carrier USS Hornet (CV-8). At the Battle of Midway on June 4, 1942, he led his squadron to be the first to locate and attack the Japanese Imperial Fleet. In overwhelming enemy fighter opposition while making an unsupported attack on Japanese aircraft carriers, he with all fifteen of his planes and 28 crew were lost. Their sacrifice made possible the success of American dive bombers that arrived later, to devastate the Japanese carriers Akagi, Kaga, and Soryu, bringing victory at Midway. Lieutenant Commander Waldron was posthumously awarded the Navy Cross.
His wife was listed as next of kin; he was also survived by two daughters. He has one memory marker in Arlington National Cemetery and another in Florida. His sister's son, George Philip, Jr. '35, was also a posthumous recipient of the Navy Cross.
Biography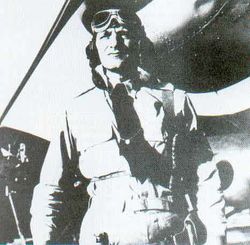 From Wikipedia:
Waldron was born on August 24, 1900 at Fort Pierre, South Dakota, son of rancher Charles Westbrook Waldron and Jane Van Metre grandson of lawyer and probate Judge George Prentiss Waldron, and a sixth great nephew of Richard Waldron. He was of colonial New Hampshire families on his father's side, and of Oglala Lakota on his mother's side. His family immigrated to Canada when he was a child and homesteaded near Lashburn, Saskatchewan where he spent his youth before returning to the USA. In the midst of his armed forces career he married Adelaide Wentworth and had two daughters. He studied law and was admitted to the bar, but never practiced.…

He received an appointment as midshipman from his home state on June 16, 1920 and graduated with the United States Naval Academy Class of 1924. Following his initial sea duty in Seattle (CA-11), Waldron went to Naval Air Station Pensacola, Florida, where he received his wings in the summer of 1927. Over the ensuing months, Waldron flew with torpedo squadrons (VT-1S and VT-9S and received his promotion to lieutenant, junior grade, on February 16, 1928. He served at the Naval Academy from May 24 to September 13, 1929, where he instructed midshipmen in the field of aviation. Then, after duty as an instructor at the NAS Pensacola, between October 1929 and June 1931, Waldron went to sea again, this time with Scouting Squadron 3B (VS-3B), based on board Lexington (CV-2), reporting for duty on July 1, 1931.

Waldron flew observation aircraft off Colorado (BB-45), before he joined Patrol Squadron 1B (VP-1B), Battle Force, for a brief period in late 1936. Subsequently flying from Saratoga (CV-3) with Fighter Squadron 3 (VF-3) until the early summer of 1939, he reported back to NAS Pensacola, for further instructor's duty on June 27, 1939. Waldron then served three successive tours of shore duty, all involving flying, at the Naval Proving Ground, Dahlgren, Va.; the Bureau of Ordnance, Washington, D.C.; and finally in the 3rd Naval District, where he was appointed naval inspector of ordnance at the plant of Carl L. Norden, Inc., in New York City—makers of the famed Norden bombsight. Detached from that duty in the summer of 1941, Lieutenant Commmader Waldron took command of the newly formed Torpedo Squadron 8 (VT-8), part of the embryonic air group being assembled for the new fleet carrier Hornet (CV-8) at Newport News, Virginia. The Pearl Harbor attack, though, meant that his training of his men had to be intensive.
The series "Heroes of the Naval Academy" profiled John in this video:

From Hall of Valor:
The President of the United States of America takes pride in presenting the Navy Cross (Posthumously) to Lieutenant Commander John Charles Waldron (NSN: 0-58825), United States Navy, for extraordinary heroism in operations against the enemy while serving as Pilot of a carrier-based Navy Torpedo Plane and Commanding Officer of Torpedo Squadron EIGHT (VT-8), attached to the U.S.S. HORNET (CV-8), during the "Air Battle of Midway," against enemy Japanese forces on 4 June 1942. Grimly aware of the hazardous consequences of flying without fighter protection, and with insufficient fuel to return to his carrier, Lieutenant Commander Waldron resolutely, and with no thought of his own life, led his squadron in an effective torpedo attack against violent assaults of enemy Japanese aircraft fire. His courageous action, carried out with a gallant spirit of self-sacrifice and a conscientious devotion to the fulfillment of his mission, was a determining factor in the defeat of the enemy forces and was in keeping with the highest traditions of the United States Naval Service. He gallantly gave his life for his country.

General Orders: Bureau of Naval Personnel Information Bulletin No. 317 (August 1943)
Service: Navy
Division: U.S.S. Hornet (CV-8)
Battalion: Torpedo Squadron 8 (VT-8)
Namesakes
USS Waldron (DD 699) was named for John; the ship was sponsored by his daughter, Nancy.
From Wikipedia:
Naval Auxiliary Air Station Waldron Field, part of the NAS Corpus Christi, Texas complex, was named in his honor. Closed in the 1950s, NAAS Waldron Field was later reactivated in the early 1960s as an outlying field renamed OLF Waldron Field in support of Student Naval Aviator primary flight training operations at NAS Corpus Christi, a role it continues to have today.

Camp Waldron of the Farragut Naval Training Station on Lake Pend Oreille in northern Idaho was named in honor of LtCdr Waldron. The camp, designed to house and train 5,000 naval recruits at a time, opened on 8 November 1942.

John C. Waldron Bridge (renamed in his honor in 2002) across the Missouri River between Pierre and Fort Pierre, SD.
Related Articles
Alfred Tucker, III '31 and William Widhelm '32 were also squadron commanders aboard USS Hornet (CV 8) early in the war.
John is one of 41 members of the Class of 1924 on Virtual Memorial Hall.