SEYMOUR A. JOHNSON, LCDR, USN
From USNA Virtual Memorial Hall
Date of birth: February 8, 1904
Date of death: March 5, 1941
Age: 37
Lucky Bag
From the 1927 Lucky Bag:
Biography
From Seymour Johnson AFB:
Seymour Johnson Air Force Base, N.C., is named in honor of Navy Lt. Seymour A. Johnson, a Goldsboro native who died in an airplane crash near Norbeck, Md., on March 5, 1941.

Lieutenant Johnson was born in Goldsboro on Feb. 15, 1904, and was the son of Dr. John N. and Lilly Johnson of Goldsboro. He graduated from Goldsboro High School in 1920 and attended the University of North Carolina at Chapel Hill for three years before entering the United States Naval Academy at Annapolis, Md.

After graduating from the academy, Lieutenant Johnson was commissioned as an ensign and entered flight training at Pensacola, Fla. He received his pilot wings in 1929. After completing flight training, he served as a pilot aboard battleships and aircraft carriers.

In 1937 he volunteered for duty as a test pilot, an assignment usually lasting two years. He was assigned to Anacostia Naval Air Station beginning in 1938 and served as a test pilot until his final mission on March 5, 1941. Lieutenant Johnson reported that he was at 43,000 feet and was getting low on oxygen. His Grumman F4F-3 fighter plane crashed near Norbeck, Md., and his death was attributed to a lack of oxygen at high altitude. He was buried in Arlington National Cemetery in Washington, D.C.

The lieutenant had more than 4,000 hours in a variety of Naval and Grumman Aircraft Corporation aircraft. He had been selected for promotion to commander in June 1941.

In August 1940 the War Department designated the airport near Goldsboro as essential to national defense. In December 1940, $168,811 was authorized for the construction of a U.S. Army Air Corps Technical Training School. Local officials began working to have the field named in honor of Lieutenant Johnson.

The name became official on Oct. 30, 1942, when Congressman Graham H. Barden informed the Goldsboro News-Argus that "the Army Air Forces Technical Training School in Goldsboro had been named Seymour Johnson Field."

Note: Seymour Johnson is the only Air Force base named in honor of a naval officer.
He was survived by his father; he is buried in Arlington National Cemetery with his infant daughter.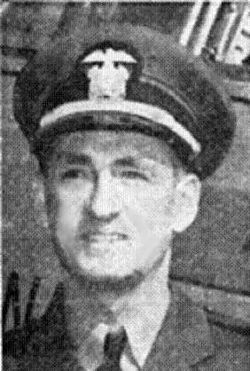 Seymour is one of 43 members of the Class of 1927 on Virtual Memorial Hall.