HALLSTED L. HOPPING, LCDR, USN
From USNA Virtual Memorial Hall
Lucky Bag
From the 1924 Lucky Bag:
Loss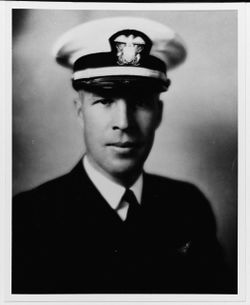 From Find A Grave:
On February 1, 1942, LCDR Hopping led a flight of US Navy Douglas Dive Bombers from the aircraft carrier USS Enterprise on an attack of the island Roi-Mamur in the Marshall Island chain.

Silhouetted against the rising sun, Hoppings dive bomber made an easy target for the Japanese defenders of the island. During his low altitude dive, Hopping's aircraft was immediately attacked by a Japanese Zero. His plane was shot to pieces, & he crashed into the Pacific. His remains were not recovered. Killed along with Hopping was his gunner Radioman First Class Harold Thomas.
His wife, Alice, was listed as next of kin; she later remarried a classmate of his. (Information from December 1976 issue of Shipmate.) Hallsted's memory marker is in Arlington National Cemetery.
Namesake
USS Hopping (DE 155) was named for Hallsted; the ship was sponsored by his widow.
Hallsted is one of 41 members of the Class of 1924 on Virtual Memorial Hall.