ALFRED B. TUCKER, III, LCDR, USN
From USNA Virtual Memorial Hall
Lucky Bag
From the 1931 Lucky Bag:
Loss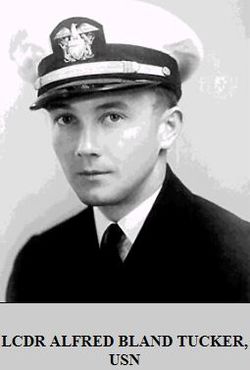 Alfred was lost on August 19, 1942 when his SDB-3 aircraft crashed at sea near Hawaii.
He was commanding officer of Bombing Squadron (VB) 8 aboard USS Hornet (CV 8); Hornet was in Pearl Harbor until August 17.
His wife was listed as next of kin; he was also survived by a daughter.
From Hall of Valor:
The President of the United States of America takes pride in presenting the Navy Cross (Posthumously) to Lieutenant Commander Alfred Bland Tucker, III (NSN: 0-70101), United States Navy, for extraordinary heroism in operations against the enemy while serving as Pilot of a carrier-based Navy Scout Dive Bomber and Executive Officer of Bombing Squadron EIGHT (VB-8), attached to the U.S.S. HORNET (CV-8), during the "Air Battle of Midway," against enemy Japanese forces on 6 June 1942. With utter disregard for his own personal safety and in the face of intense anti-aircraft fire, Lieutenant Commander Tucker led his squadron in determined and effective bombing and strafing attacks on fleeing enemy Japanese forces, obtaining a successful hit on one of the enemy ships. His courageous action on this occasion contributed materially to the victory achieved by our forces and was in keeping with the highest traditions of the United States Naval Service.

General Orders: Bureau of Naval Personnel Information Bulletin No. 309 (December 1942)
Action Date: June 6, 1942
Service: Navy
Rank: Lieutenant Commander
Battalion: Bombing Squadron 8 (VB-8)
Division: U.S.S. Hornet (CV-8)
Related Articles
John Waldron '24 and William Widhelm '32 were also squadron commanders aboard USS Hornet (CV 8) early in the war.
Alfred is one of 51 members of the Class of 1931 on Virtual Memorial Hall.