CHARLES L. CROMMELIN, CDR, USN
From USNA Virtual Memorial Hall
Lucky Bag
From the 1931 Lucky Bag:
Loss
From Crommelin.org:
After assuming command of Carrier Air Group 12 he was awarded the Navy Cross for extraordinary heroism during the first carrier force raids on Japan in February 1945. On 28 March 1945 Commander Crommelin volunteered to fly from another aircraft carrier to participate in pre-invasion strikes on Okinawa. He never returned from that mission.
From naval aviation historian Richard Leonard in an email on March 9, 2018:
From USS Hornet (CV 12) War Diary:

CROMMELIN, CHARLES L. 70011 COMDR. USN Temp. Duty CCD5
Missing in action while on active temporary duty with staff, Commander Carrier Division FIVE, as a pilot of an F6F-5 on an authorized photographic mission over enemy territory 28 March 1945. Last seen crashing into water 500 yards off enemy shore after mid-air collision with another F6F-5.

CarDiv5 was Hornet, part of TF-58.1 at the time, running missions over Okinawa. If he was flying a photo mission off Hornet, VF-17 would have been the owner of any F6F photo plane. They were always assigned to the VF squadron and not to the VBF squadron. And we know he was flying photo missions not just because of the above, but the TF-58.1 war diary for the period has a photo on the cover specifically credited to the late Commander Charles L. Crommelin.
His wife was listed as next of kin.
Career
He earned his wings as naval aviator #3966 on January 27, 1933.
From Together We Served:
1934-1940 VF-2 Bounty Hunters
1939-1939 USS Lexington (CV-2)
1942-1942 VF-5 Fighting Hell Cats
1943-1944 USS Yorktown (CV-10)
1943-1944 Carrier Air Group 5 (CAG-5)
1944-1945 COMNAVAIRLANT/COMCARGRU 12
1945-1945 USS Randolph (CV-15)
From Crommelin.org:
Charles flew Hellcats and was Commander of Carrier Air Group 5 aboard Yorktown. Later he commanded Carrier Air Group 12 aboard the USS Randolph. The book, "Crommelin's Thunderbirds" recounts the action experienced by Air Group 12.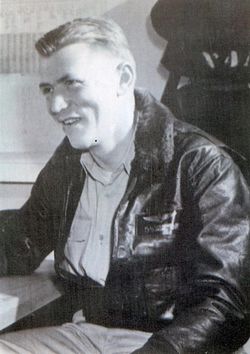 From Hall of Valor:
The President of the United States of America takes pride in presenting the Navy Cross (Posthumously) to Commander Charles Lawrence Crommelin (NSN: 0-70011), United States Navy, for extraordinary heroism in operations against the enemy while serving as Pilot of a carrier-based Fighter Plane and Commander of AIR GROUP TWELVE (AG-12), attached to the U.S.S. RANDOLPH (CV-15), during the first attack on Japan by Naval carrier-based planes on 17 February 1945. Acting as Strike Leader for a coordinated attack on a vital aircraft engine plant in the Tokyo area, Commander Crommelin courageously refused to turn back when he discovered, upon reaching the Japanese coast, that his engine was operating at greatly reduced power and he knew extremely adverse weather conditions made necessary a long trip over the Japanese mainland to the target area. Pressing home the attack in the face of intense and accurate anti-aircraft fire and fighter opposition, he was last to leave the target area, taking damage assessment photographs before delivering his own rocket and strafing attack. Commander Crommelin, by his outstanding professional skill, inspiring leadership and gallant devotion to duty, contributed materially to the serious damage of an important enemy installation, thus upholding the highest traditions of the United States Naval Service.

Service: Navy
General Orders: Commander 1st Carrier Task Force Pacific: Serial 0540 (September 12, 1945)
Distinguished Flying Cross
His two Distinguished Flying Crosses were presented to him by his father-in-law, Rear Admiral Elliott Buckmaster, Commandant of the Naval Air Center, San Diego, California.
From Hall of Valor:
SYNOPSIS: Commander Charles Lawrence Crommelin (NSN: 0-70011), United States Navy, was awarded the Distinguished Flying Cross for extraordinary achievement while participating in aerial flight during World War II. Commander Crommelin lead fighters in support of bombers raiding Marcus Island.

General Orders: Bureau of Naval Personnel Information Bulletin No. 325 (April 1944)
Service: Navy
Rank: Commander
From Crommelin.org:
Commander Charles L. Crommelin, who flew the Hellcat (Grumman F6F), was awarded a Distinguished Flying Cross for action as Commander of a Fighting Squadron in an attack on Marcus Island on 31 August 1943. The following November he was awarded a gold star in lieu of a second Distinguished Flying Cross for action as Commander of Air Group Five during the Gilbert Islands Campaign.

The citation read in part: "While leading an important reconnaissance flight over Mille Atoll on 21 November,in complete disregard for his personal safety and in the presence of determined anti-aircraft fire, he strafed one plane and was maneuvering to attack the other plane when his plane was struck by a shell which exploded within the cockpit, shattering the instruments and severely wounding him. With no vision in his left eye, his right wrist broken, a sever wound in his right chest, as well as many cuts and abrasions on his face, arms and body, and with forward visibility through the cockpit enclosure almost zero, despite loss of blood, he brought his plane back over one hundred miles and made a perfect landing aboard his carrier [the Yorktown]"
Namesake
USS Crommelin (FFG 37) was named for Charles and his brothers.
Related Articles
Richard Crommelin '38 was one of Charles' younger brothers.
Charles is one of 51 members of the Class of 1931 on Virtual Memorial Hall.