HENRY M. MULLINNIX, RADM, USN
From USNA Virtual Memorial Hall
Lucky Bag
From the 1916 Lucky Bag:
Loss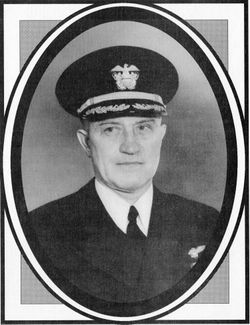 Henry was lost on November 24, 1943 when USS Liscome Bay (CVE 56) was torpedoed and sunk by a Japanese submarine. He was embarked as the Commander of Carrier Division (CARDIV) 24.
His wife, Kathryn, was listed as next of kin. He has a memory marker in Indiana.
Biography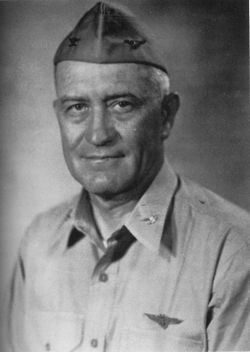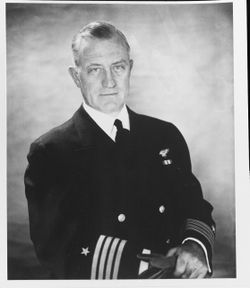 From Naval History and Heritage Command:
Born 4 July 1892, in Spencer, Indiana, Henry Maston Mullinnix was graduated from the grammar and high schools of Attica, Indiana, and attended Purdue University, Lafayette, Indiana, for one year as a member of the Class of 1915. He was appointed to the US Naval Academy from his native state in 1912, and was graduated with distinction and commissioned Ensign on 2 June 1916, standing first in a class of 177 members. During World War I he was promoted to Lieutenant (junior grade) and Lieutenant in 1917, and was commissioned in those ranks in 1919 and 1920, respectively. Subsequently promoted to Lieutenant Commander 1 July 1926, Commander, 30 June 1936, and Captain 1 July 1941, he attained the rank of Rear Admiral on 6 August 1943, to date from 13 November 1942.

After graduation from the Naval Academy in 1916, he was assigned to USS Balch, which operated with the Destroyer Force based on Queenstown, Ireland, late in 1917, and during the remainder of World War I was employed in patrol and escort duty in the War Zone. He returned to the United States in September 1918, and after assisting in fitting out USS Gridley at Union Iron Works, San Francisco, California, he served as Engineer Officer of that destroyer from her commissioning on 27 August 1918, until March 1920. He next assisted in fitting out USS Brooks at the New York Shipbuilding Company, Camden, New Jersey, and served as her Engineer Officer from her commissioning 24 August 1920 until 13 May 1921.

During the period June 1921 to June 1923 he was a student in Aeronautical Engineering at the Postgraduate School, Annapolis, and Massachusetts Institute of Technology, Cambridge, Massachusetts, receiving the degree of Master of Science from the latter. He then had flight training at the naval Air Station, Pensacola, Florida, where he was designated Naval Aviator on 11 January 1924.

Assigned to the Engine Section of the Bureau of Aeronautics, Navy Department, Washington, DC, from June 1924 until September 1927, he next had duty in connection with fitting out USS Saratoga (CV-3), and served in that aircraft carrier from her commissioning on 16 November 1927 until 27 June 1929, first as Assembly and Repair Officer, and later as Assistant Air Officer. During the following year he commanded Bombing Squadron Two of Aircraft Squadrons, Battle Fleet, based on USS Saratoga.

From June 1930 until June 1932, he served on the Staff at the Naval Air Station, Pensacola, and after a year's duty on the Staff of Commander Aircraft, Scouting Force, served as Navigator of the Fleet Air Base, Pearl Harbor, T. H., from June 1934, until May 1937, then he returned to USS Wright for duty as Executive Officer until June 1938. During the next year he served as Aviation Officer on the Staff of Commander Battle Force, and for a year thereafter he was ashore as Executive Officer of the Naval Air Station, San Diego, California.

On 1 November 1940, he reported at the New York Shipbuilding Corporation, Camden, New Jersey, to fit out USS Albemarle. He commanded that seaplane tender from her commissioning 20 December 1940, until 3 March 1941. He commanded the patrol Wing of the Support Force (later redesignated Patrol Wing Seven) for a year and received the following Letter of Commendation from the Secretary of the Navy:

"The Department has been informed that during the period from March 3, 1941 to March 21, 1942, you, as Commander Patrol Wing Seven and Commander patrol Wings, support force, conducted the equipping, specialized training, and operations of patrol aircraft of the Support force (TF-24) in high latitude operation and anti-submarine and escort-of-convoy tactics which contributed to the safe escort of shipping in the vicinity of Newfoundland and Iceland. For your outstanding performance of duty during this period, you are hereby commended."

He served as Air Officer on the Staff of Commander Eastern Sea Frontier, from March 1942 until March 1943, and for his achievements during that period was awarded the following Letter of Commendation from the War Department: "From early 1942 until his recent departure to another assignment, it was my pleasure to be associated with Captain Mullinnix in the conduct of Antisubmarine Air Operations. I wish to commend Captain Mullinnix for his excellent judgment, tact, personality and understanding of the problem at hand. His services rendered during this period contributed greatly to the success of the operations."

In the rank of Captain he commanded the aircraft carrier USS Saratoga from 7 April 1943 until 22 August 1943, when he was ordered to command a Carrier Division, with the accompanying rank of Rear Admiral. He was aboard USS Liscome Bay as Task Force Commander when that aircraft carrier escort was torpedoed and sunk by an enemy submarine off Makin Island in the Gilbert Islands area, on 24 November 1943, and was reported missing in action following that catastrophe. He was officially declared dead a year later. He was posthumously awarded the Purple Heart Medal for wounds received, and the Legion of Merit, with the following citation:

Legion of Merit: "For exceptionally meritorious conduct...as Commander of a Carrier Air Support Group prior to and during the amphibious invasion of Japanese-held Makin Atoll, Gilbert Islands, from November 1 to 24, 1943. Displaying outstanding initiative and superior executive ability, Rear Admiral Mullinnix skillfully conducted anti-submarine and combat air patrols supporting our landing operations on this strongly defended island and, through his brilliant leadership, enabled escort carriers to carry out a well coordinated, aggressive attack against the enemy. Rear Admiral Mullinnix's tireless efforts, meticulous attention to detail and loyal devotion to the accomplishment of an extremely difficult and hazardous mission contributed materially to out subsequent capture of this strategic area."

In addition to the Legion of Merit with Combat "V," the Purple Heart Medal, and the Commendation Ribbon, Rear Admiral Mullinnix had the World War I Victory Medal, Destroyer Clasp; and was entitled to the American Defense Service Medal, Fleet Clasp; the Asiatic-Pacific Campaign Medal; and the World War II Victory Medal.

USS Mullinnix (DD-944) was named in his honor and an airfield on Buota Island, Tarawa, in the Gilbert Islands, was also named "Mullinnix Field" in honor of the late Rear Admiral Mullinnix.
Remembrances
From "Twenty-Three Minutes to Eternity: The Final Voyage of the Escort Carrier USS Liscome Bay":
By now Mullinnix was in the carrier's flag plot, keeping a watchful eye on the charting of the division's course for the upcoming day. The admiral had been up for days, catching rare snatches of sleep, and was bone-tired. "He was a terrifically hard worker and the most conscientious man I ever saw," his chief of staff [John Crommelin] later wrote. Mullinnix's flag quartermaster, P.W. Rairden, joined the admiral in the plot. The admiral had become known among the ship's sailors by then as a "kind, friendly man," and the two men shared a few moments of quiet conversation as the ship around them slowly came to life.
From the May 1957 issue of Shipmate:
The following address was delivered by V. Adm. George F. Hussey, USN (Ret.) '16, on the occasion of the launching of the USS MULLINNIX (DD-944) on 18 March 1957.

"Forty-five years is a long span. In this setting it takes some of us back to the old three-stack destroyers that made up our light forces before World War I. This ship before you looks as if she could hoist in one of those old-timers.

"For the Class of 1916 that span evoke many memories. Sharp among them is the recollection of a sturdy, broad-shouldered Middlewesterner with a shock of blond hair. It was early apparent that he had an excellent mind and a prodigious power of concentration. Whatever he undertook he gave it all his energy—on the football field as in the classroom. Standing well up near the top of the class Plebe Year, he went on to stand No. One for the next two years, and at graduation he led the class as our honor man. First Class Year he wore the five stripes of the Midshipman Commander, the highest billet in the Regiment. The Lucky Bag, edited by his classmates, noted that 'he wore those stripes because he rated them.' That from one midshipman to another is high praise. With all his concentration he was never too busy to drop his own work and lend a hand to those of us who were making heavy weather of the course. That midshipman was Henry Maston Mullinnix.

"Graduation saw a new departure by the Bureau of Navigation—a handful of the class were assigned to destroyers. Henry went to one—one of those old three-stackers —and served before World War I and in the war at Queenstown in the joint British-American anti-submarine and convoy escort operations. Toward the end of the war he came back to commission one of the new four-stack destroyers, and after a couple of years to do the same with another, in each serving as Engineer Officer.

"In the summer of 1921 he began a course in Aeronautical Engineering at the Postgraduate School, followed by a year at Massachusetts Institute of Technology (which the Navy always called 'Boston Tech') where he won a Master of Science degree. Then one of the first officers to be trained in aeronautical engineering he went to Pensacola and in January 1924 qualified as a Naval Aviator. During more than three years in the Engine Section of the Bureau of Aeronautics he took a leading part in the development of the air-cooled engine for naval aircraft. He fitted out the Saratoga and served in her as a ship's officer and later in command of her bombing squadron.

"The next ten years saw Henry Mullinnix as a lieutenant commander and a commander serving on various staffs, at Naval Air Stations, and in aircraft tenders. Those years were of vital importance to the development of naval aviation, and in each billet Henry took a leading part. He commissioned the Aircraft Tender Albemarle in 1940, but his command was short for he was assigned to the greater responsibility of Commander Patrol Wing Seven. His Catalina squadrons were concerned with convoy escort and anti-submarine operations from Argentia and Iceland and in the high latitudes of the Atlantic. He was back at his old trade, with new tools to his hand. His performance in organization, training, and operations won him commedation from the Secretary of the Navy, and assignment to even broader responsibilities as Air Officer, Eastern Sea Frontier. Here he was concerned with anti-submarine operations on the whole Atlantic Coast. Here again his performance won him commendation—this time from the War Department.

"Another short command—his old ship the Saratoga—came to an end when he was promoted to Rear Admiral and assigned command of a division of Escort Carriers. These were a relatively new type being introduced into the amphibious operations in the Pacific.

"He commanded Task Group 53.2 in the Gilbert Islands Campaign. His group was a part of Admiral Turner's Task Force which made the attack on Makin Island—the planes from his carriers furnishing direct support for the landing and to the Army troops ashore. At dawn on the fourth day his flagship, the Liscombe Bay, was torpedoed by a Japanese submarine. The ship went down astoundingly quickly with an appalling loss of life—including Admiral Mullinnix.

"There the Service lost a splendid officer with a brilliant career behind him and the promise of many more years of leadership.

"May this fine ship—the product of so many keen minds, skilled hands, and stout hearts—which will bear his name, serve as an inspiration to all who serve in her to emulate Henry Mullinnix in his devotion to duty and his singleness of purpose—the good of the Service."
Legion of Merit
From Hall of Valor:
The President of the United States of America takes pride in presenting the Legion of Merit (Posthumously) to Rear Admiral Henry Maston Mullinnix (NSN: 0-9700), United States Navy, for exceptionally meritorious conduct in the performance of outstanding services to the Government of the United States as Commander of a carrier air support group during the assault on Makin Atoll during World War II. Admiral Mullinnix skillfully conducted anti-submarine and combat air patrols supporting our landing operations. Through his brilliant leadership, escort carriers were able to carry out a well coordinated attack against the Japanese.

General Orders: American Battle Monuments Commission
Service: Navy
Rank: Rear Admiral

Namesake
USS Mullinnix (DD 944) was named for Henry; the ship was sponsored by his widow.
Memorial Hall Error
On the killed in action panel in the front of Memorial Hall, Henry's last name is spelled with only one "n".
Related Articles
Irving Wiltsie '21, Lester Kern '23, Finley Hall '29, Charles Ostrom '30, and George Williams '40 were also lost in Liscome Bay.
Henry is one of 16 members of the Class of 1916 on Virtual Memorial Hall.