JOHN R. CRAIG, LCDR, USN
From USNA Virtual Memorial Hall
Date of birth: September 13, 1906
Date of death: March 5, 1943
Age: 36
Lucky Bag
From the 1930 Lucky Bag:
Biography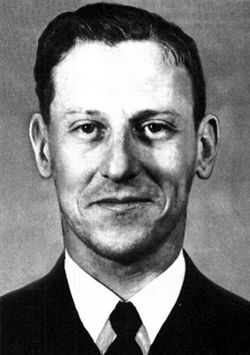 From USS John R. Craig (DD 855) Reunion Association:
Lieutenant Commander John Rich Craig was born in Jacksonville, Florida on September 3, 1906. He attended grade schools in Jacksonville and the Duval High School, then entered the U. S. Naval Academy from Florida in 1926. After graduation and commissioning in 1930, he was assigned to USS SARATOGA and served in her until March 1931, when he was ordered to Naval Air Station Pensacola, Florida. He was detached from duty there in September 1931 and during the next four and one half years served successively on the carrier LEXINGTON, and destroyers NOA, SIMPSON, and LONG and the fleet oilier NECHES. In January 1936 he reported to the Submarine Base, New London, Connecticut for instruction in submarines. After completing the course's in May 1936, he joined USS S-34 in Honolulu. In September 1937, he was transferred to USS S-24, serving in her until May 1938, when he returned to the United States.

Lieutenant Commander Craig had duty in the Bureau of Navigation, Navy Department, Washington, D. C. from June 1938 until December 1940, when he assumed command of USS R-17. In June 1942, he was ordered to duty on the staff of Commander, Submarines, Southwest Pacific, and on September 15, 1942, he assumed command of USS GRAMPUS. He was declared missing in action on March 22, 1943 when USS Grampus (SS 207) was lost in the Southwest Pacific area. LCDR Craig was declared dead on March 23, 1944.

Lieutenant Commander Craig was awarded the Purple Heart posthumously. He had received the American Defense Service Medal, Fleet Clasp, and the Asiatic-Pacific Area Campaign Medal.
From Fleet Organization:
Duty Detail Section Officer Personnel Division Bureau of Navigation 1938 - Dec 1940
Captain USS R-17 (SS-94) Jan 1940 - 9 Mar 1942
Staff Commander Submarines Southwest Pacific Jun 1942 - Sep 1942
Captain USS Grampus (SS-207) 23 Sep 1942 - Feb 1943
Lieutenant 30 Jun 1937
Lieutenant Commander (T) 1 Jan 1942
Lieutenant Commander 30 Jun 1942
Commander (T) 15 Oct 1942
His wife was listed as next of kin.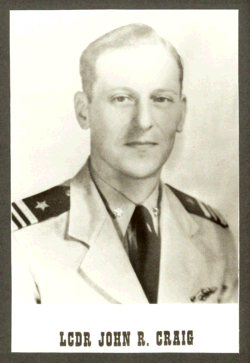 From Hall of Valor:
The President of the United States of America takes pride in presenting the Navy Cross (Posthumously) to Lieutenant Commander John Rich Craig (NSN: 0-63273), United States Navy, for extraordinary heroism in the line of his profession as Commanding Officer of the U.S.S. GRAMPUS (SS-207), during the FOURTH and FIFTH War Patrols of that submarine during the period 2 October 1942 to 19 January 1943, in enemy controlled waters of the Solomon Islands Area. Despite the great mental and physical strain of prolonged patrols in enemy-controlled waters, Lieutenant Commander Craig launched repeated, daring attacks on Japanese shipping, sinking two enemy transports and one cargo ship, totaling 24,000 tons, and damaging three enemy destroyers. His efficient and inspiring leadership and the loyal devotion to duty of the men under his command throughout the period made possible the successful accomplishment of a vital and hazardous mission. Through his experience and sound judgment Lieutenant Commander Craig brought his ship safely back to port. His conduct throughout was an inspiration to his officers and men and in keeping with the highest traditions of the United States Naval Service.

General Orders: Bureau of Naval Personnel Information Bulletin No. 315 (June 1943)
Service: Navy
Rank: Lieutenant Commander
Namesake
USS John R. Craig (DD 885) was named for John; the ship was sponsored by his widow.
Related Articles
James Craig '22 was John's brother.
John is one of 42 members of the Class of 1930 on Virtual Memorial Hall.