JOHN S. BLUE, LCDR, USN
From USNA Virtual Memorial Hall
Lucky Bag
From the 1925 Lucky Bag:
Biography & Loss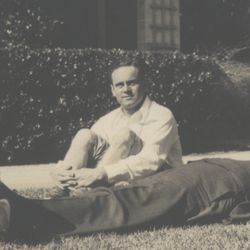 From Wikipedia:
John Stuart Blue was born in New York City on 29 August 1902, and graduated from the United States Naval Academy in 1925. During 1933 he commanded the Presidential yacht USS Sequoia (AG-23) and served as Aide to President Franklin D. Roosevelt. Between August 1940 and January 1942 he commanded the destroyer USS Palmer (DD-161) and then reported to the light cruiser USS Juneau (CL-52) as navigator.
John was lost when USS Juneau (CL 52) was sunk at the Naval Battle of Guadalcanal on November 13, 1942.
His wife, Alice, was listed as next of kin; he was also survived by his mother, daughter, and brother (who was also a naval officer).
Namesake
Blue (DD 744) was named for John; the ship was sponsored by his widow and daughter.
John is one of 30 members of the Class of 1925 on Virtual Memorial Hall.