GEORGE PHILIP, JR., CDR, USN
From USNA Virtual Memorial Hall
Date of birth: April 14, 1912
Date of death: June 16, 1945
Age: 33
Lucky Bag
From the 1935 Lucky Bag:
Loss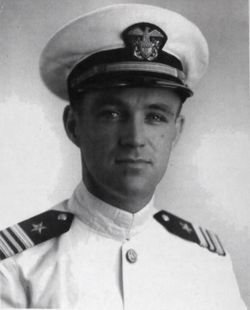 From Wikipedia:
Commander Philip was posthumously awarded the Navy Cross for extraordinary heroism while commanding USS Twiggs (DD 591) during an 84-day period of combat near Okinawa. He died following a dusk attack by a Japanese kamikaze aircraft on 16 June 1945. There were 152 dead and missing when Twiggs sank. According to eye witness Chief Machinist's mate Charles F. Schmidt, Commander Philip was last seen mortally wounded, grasping the railing of the bridge trying to stand. Commander Philip went down with the ship along with many of his shipmates and was lost at sea.

On 12 March 1946, Secretary of the Navy James Forrestal stated, during the presentation of the Navy Cross to his widow, Margaret Taussig-Philip:

His courage, fortitude and initiative in the performance of a difficult and hazardous duty characterized Commander Philip as a brilliant leader and seaman, reflecting the highest credit upon himself and the United States Naval Service, he gallantly gave his life in the service of his country.
Family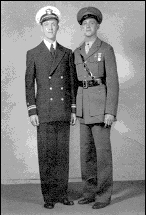 From Wikipedia:
Commander Philip had a sister, Jean (Jan 1914 – 1990) and a brother, Robert (Nov 1915 – 1943). His brother, Major Robert Philip, was a United States Marine Corps Aviator in the Pacific Theater during World War II; Robert was lost at sea when his aircraft went down 24 June 1943 in the Samoan Islands near Manono Island.

Commander George Philip Jr. was survived by his parents, George and Isle Philip, his wife Margaret Taussig-Philip (daughter of Vice admiral Joseph Taussig), his daughter Margaret "Snow" Philip and his son George Philip III. His daughter Snow Philip was the ship sponsor of USS George Philip (FFG-12) at the ceremonial ship launching on 16 December 1978. In June 1999, Snow Philip and George Philip III joined with a group of Twiggs survivors aboard George Philip in Okinawa. The group sailed on the frigate to the Twiggs wreck site and held a memorial ceremony for the sailors lost in 1945, at the site of the sinking. At the end of the ceremony, Commander Philip's children left their mother Margaret's ashes at the site where their father had been lost at sea over 50 years earlier.
His wife was listed as next of kin. He has a memory marker in South Dakota.
Biography
From Wikipedia:
George Philip Jr. was born in Fort Pierre, South Dakota, on 14 April 1912 to George Philip (1880 – 1948), a Scottish immigrant from Morayshire, Scotland and Alice Island "Isle" Waldron (1890 – 1972), of part Oglala Lakota descent and also born in Fort Pierre. He was known as Geordie.

He attended the South Dakota School of Mines in Rapid City, South Dakota before his appointment to the United States Naval Academy. After completion of the course of instruction at the Naval Academy, he was commissioned an Ensign on 6 June 1935. Ensign Philip continued to progress in grade until his promotion to Commander on 4 September 1944. During this period he served under a variety of commands including: USS Mississippi (BB-41) (1935–37), USS California (BB-44) (1937–38), USS Ellet (DD-398) (1938–40), USS O'Bannon (DD 450) (1942-43), and Operational Training Command, Pacific Fleet, San Diego, California (1943–44). He then served as Commanding Officer of USS Twiggs (DD-591) (1944–45).

Commander Philip established a skilled fighting reputation while simultaneously serving as the Executive officer, Navigator and Combat Intelligence Officer of the famed O'Bannon. For his conspicuous gallantry during the crucial stages of the Solomon Islands campaign, Philip was awarded the Silver Star Medal and O'Bannon received the Presidential Unit Citation.
Letters
From Find A Grave:
During the war, George wrote twice a week to his family. Since naval members could not talk about their ship's war plans or anything concerning the war, he talked about how life was on the ship. He lovingly asked about his family, and talked about seeing them after the war.

One letter to his wife Margaret begins, "I received the letters from you today, all so cozy and wonderful. You have no idea how it swayed up my spirits. Just one letter with your writing on the envelope has been enough, but to get ten exceeded my fondest hopes. And the pictures too, they were wonderful. I am so glad you were in most of the pictures. I love the baby more than anybody in the world except you and the more pictures I have of you the better. I like it."
From Hall of Valor:
The President of the United States of America takes pride in presenting the Navy Cross (Posthumously) to Commander George Philip, Jr. (NSN: 0-74871), United States Navy, for extraordinary heroism and distinguished service in the line of his profession as Commanding Officer of the Destroyer U.S.S. TWIGGS (DD-591), during operations against the enemy in the vicinity of Okinawa Gunto, Nansei Shoto, from 25 March 1945 to 16 June 1945. Despite frequent attacks both day and night by enemy aircraft, and in the face of tremendous difficulties, Commander Philip directed the operation of his ship in such a manner that every mission was accomplished effectively. When his ship was damaged by an enemy suicide plane, Commander Philip brought her safely through the attack and supervised repair of battle damage in the combat area, returning to action in the minimum possible time. By his heroism in the destruction of enemy aircraft and shore installations, by his courage and endurance while commanding one of the destroyer pickets at Okinawa, an extraordinarily hazardous duty, and by virtue of conspicuous personal leadership in maintaining the fighting morale of a battle-worn crew under extremely trying conditions, Commander Philip distinguished himself and his command and contributed greatly to the success of a very difficult operation. His determination and heroic conduct were in keeping with the highest traditions of the United States Naval Service.

General Orders: Commander in Chief Pacific: Serial 053 (January 1, 1946)
Action Date: March 25 - June 16, 1945
Service: Navy
Rank: Commander
Company: Commanding Officer
Division: U.S.S. Twiggs (DD-591)
Silver Star
From Hall of Valor:
The President of the United States of America takes pleasure in presenting the Silver Star to Commander [then Lieutenant] George Philip, Jr. (NSN: 0-74871), United States Navy, for gallantry, intrepidity, and meritorious performance of duty in repeated actions against the enemy as Executive Officer and Navigator of the Destroyer U.S.S. O'BANNON (DD-450), operating as a unit of a Task Force in the Solomon Islands from 10 January to 6 April 1943. During this period his ship acquitted itself with distinction, participating in three bombardments of enemy shore installations; operated against enemy air and surface forces attempting to relieve Guadalcanal, and surprised on the surface and sank an enemy submarine on the night of 15 April. By his skill, fearlessness and outstanding leadership, Lieutenant Philip was instrumental in the successful accomplishment of all the missions of his ship in the above actions. His conduct was at all times in keeping with the highest traditions of the United States Naval Service.

General Orders: Commander in Chief Pacific: Serial 00809 (June 2, 1943)
Action Date: January 10 - April 6, 1943
Service: Navy
Rank: Commander
Company: Executive Officer
Division: U.S.S. O'Bannon (DD-450)
Namesake
USS George Philip (FFG 12) was named for George; the ship was sponsored by his daughter, Margaret.
Related Articles
John Waldron '24 was George's uncle.
George is one of 56 members of the Class of 1935 on Virtual Memorial Hall.