MANNING M. KIMMEL, LCDR, USN
From USNA Virtual Memorial Hall
Date of birth: April 22, 1913
Date of death: July 26, 1944
Age: 31
Lucky Bag
From the 1935 Lucky Bag:
Biography & Loss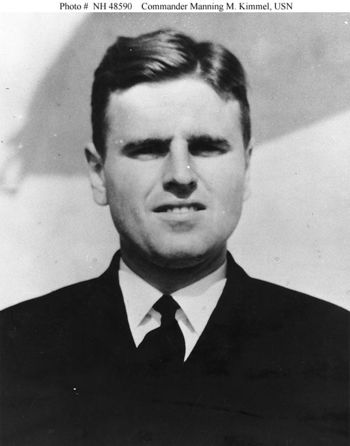 From Wikipedia:
Manning Kimmel was born in Washington, D.C. on April 22, 1913. His father was Admiral Husband E. Kimmel, who would eventually become the commander of the Pacific Fleet at the time of the attack by the Japanese at Pearl Harbor, Hawaii.

The younger Kimmel followed his father's footsteps and entered the United States Naval Academy, graduating in June 1935. Ensign Kimmel's first assignment was aboard the battleship USS Mississippi. He subsequently went to Groton, Connecticut in 1938 for submarine training. Upon completion of his training, Kimmel was assigned as a junior officer aboard the submarine S-39 and served aboard her until the middle of 1941.

The now Lieutenant Kimmel was transferred to the new Gato-class submarine USS Drum (SS-228). At the outbreak of hostilities, Drum operated off the east coast of Honshū where Kimmel had his first formal experience with combat. At the end of 1942, Kimmel became Executive Officer of Drum.

In 1943, Kimmel became Executive Officer aboard a new Gato-class submarine, USS Raton (SS-270) and served in that role until 1944.

In May 1944, Admiral Ralph Waldo Christie, commander of submarine operations out of Perth-Fremantle, relieved Steven Ambruster of command of the Gato-class submarine USS Robalo (SS-273) and selected Lieutenant Commander Kimmel to be her new skipper.

Kimmel took Robalo to the South China Sea to operate against tanker traffic trying to supply the Japanese fleet at Tawi Tawi. During one attack against a target, Robalo was attacked by a Japanese plane. Bombs from the plane severely damaged the submarine's periscopes, damaged her conning tower, and wrecked her radar. When diving to escape the aircraft, the main induction flooded and the boat plunged towards the bottom until Kimmel stopped her descent at 350 feet. Despite the damage, Kimmel insisted the Robalo remain on patrol.

Admiral Christie was concerned that Kimmel was being overly aggressive, and submarine commander Herber "Tex" McLean commented on Robalo's patrol, "Anybody else would have come home long before. I worried that Kimmel was a little too anxious to put the name of Kimmel high in Navy annals." But not only was Kimmel the son of the former commander of the Pacific Fleet, he was also the nephew of Admiral Thomas C. Kinkaid, so Christie took no action.

Repairs, however, were eventually made, and when they were complete, Kimmel was ordered to take Robalo to Indochina via the Balabac Strait, separating Palawan and Borneo. Christie had received reports of Japanese minefields in the Balabac Strait, but a number of submarines, including Robalo on her first patrol, successfully transited the body of water. Kimmel had received information about the minefields and was given instructions how to safely navigate the area.

On July 3, 1944, Robalo received an Ultra communiqué, and attempted to intercept a Fuso-class battleship. Kimmel sent off a contact report, which was the last message ever received from him. On the night of July 26, while on the surface, Robalo apparently strayed off course, struck a mine and sank. An unknown number of survivors, possibly as many as seven, managed to make it ashore on Palawan. But before they could make contact with Filipino guerrillas, they were captured by Japanese forces.
His wife was listed as next of kin; he was also survived by a daughter, Agatha; his parents; and two brothers. He has a memory marker in the Naval Academy Cemetery. (His daughter is buried there.)
Thomas Kimmel's father, Admiral Husband Kimmel, was in charge of the fleet at Pearl Harbor on December 7, 1941. As The immediate commanders he and Admiral Short were held responsible for not protecting the fleet from the Japanese destruction. Although much documentation exists to show that vital information of the pending attack was known and willfully withheld from them, they were used as scapegoats for the devastation caused by the Japanese sneak attack.

In addition to the brilliant military career of Admiral Kimmel, his son, Edward Ralph Kimmel, was aboard the USS Vixen and the USS Ranger (both in the Atlantic).

In addition, another of his sons, Manning M. Kimmel, was an officer aboard the submarine USS Drum from 11/41-11/42, comprising 3 war patrols of 56, 54, 46 days respectively. During these patrols the USS Drum sank 6 merchantmen, one seaplane tender and damaged 2 merchantmen. Manning, aboard the USS Drum, was at the Battle of Midway, 6/42.

He was then assigned to the USS Raton from 7/43-3/44, serving for 2 war patrols of 17 and 45 days respective, sinking 4 merchantmen, 1 tanker and damaged 2 merchantmen.

From here Lcdr Manning M. Kimmel took command of the USS Robalo from 3/44-7/44. While on it's third war patrol they sank 1 tanker. The Robalo departed Fremantle on 22 June 1944 to conduct her third war patrol during WWII in the South China Sea in the vicinity of the Natuna Islands. After traversing Makassar and Balabac Straits, she was to arrive on station about 6 July, and stay there until dark on 2 August 1944.
Career
From Fleet Organization:
Duty Submarine Squadron Five 1 Jul 1939 - 1 Jul 1940
Communications Officer & First Lieutenant USS S-38 (SS-143) 1 Oct 1939 ?? - 1941
Duty USS Drum (SS-228) Nov 1941 - 1942
Acting Executive Officer USS Drum (SS-228) Sep 1942
Executive Officer USS Raton (SS-270) Jul 1943 - Feb 1944
Captain USS Robalo (SS-273) 6 Mar 1944 - Jul 1944
Lieutenant (j.g.) 6 Jun 1938
Lieutenant 1 Jan 1942
Lieutenant Commander (T) 1 May 1943
Silver Star
From Hall of Valor:
The President of the United States of America takes pride in presenting the Silver Star (Posthumously) to Lieutenant Commander [then Lieutenant] Manning Marius Kimmel (NSN: 0-74869), United States Navy, for conspicuous gallantry and intrepidity in combat while serving aboard the U.S.S. DRUM (SS-228) during War Patrols of that Submarine in enemy-controlled waters during World War II. During three extensive war patrols in enemy waters and despite determined enemy opposition he courageously and skillfully performed his duties as Diving Officer and thus assisted materially in the sinking of an important amount of Japanese shipping. His excellent judgment and coolness under fire contributed in a large measure to the success of the ship. His conduct throughout was in keeping with the highest traditions of the United States Naval Service.

General Orders: Commander in Chief Pacific: Serial 33
Action Date: World War II
Service: Navy
Rank: Lieutenant Commander
Company: Diving Officer
Division: U.S.S. Drum (SS-228)
Bronze Star
He was also awarded a Bronze Star Medal; unable to find the full citation. From Find A Grave:
For distinguishing himself by meritorious and heroic conduct in action in the line of his profession as assistant approach officer of a United States submarine during her first and second war patrols in enemy controlled waters. During these two patrols she sank many thousands of tons of enemy shipping and damaged many additional thousands of valuable tons of enemy shipping. The assistance given by Commander Kimmel to his commanding officer and his coolness in the face of the enemy were invaluable and contributed greatly to the success of the ship during its first war patrols.
The "Register of Commissioned and Warrant Officers of the United States Navy and Marine Corps" was published annually from 1815 through at least the 1970s; it provided rank, command or station, and occasionally billet until the beginning of World War II when command/station was no longer included. Scanned copies were reviewed and data entered from the mid-1840s through 1922, when more-frequent Navy Directories were available.
The Navy Directory was a publication that provided information on the command, billet, and rank of every active and retired naval officer. Single editions have been found online from January 1915 and March 1918, and then from three to six editions per year from 1923 through 1940; the final edition is from April 1941.
The entries in both series of documents are sometimes cryptic and confusing. They are often inconsistent, even within an edition, with the name of commands; this is especially true for aviation squadrons in the 1920s and early 1930s.
Alumni listed at the same command may or may not have had significant interactions; they could have shared a stateroom or workspace, stood many hours of watch together… or, especially at the larger commands, they might not have known each other at all. The information provides the opportunity to draw connections that are otherwise invisible, though, and gives a fuller view of the professional experiences of these alumni in Memorial Hall.
October 1935
Ensign, USS Mississippi
---
Others at this command:
---
Others at or embarked at this command:
January 1936
Ensign, USS Mississippi
---
Others at this command:
---
Others at or embarked at this command:
April 1936
Ensign, USS Mississippi
---
Others at this command:
---
Others at or embarked at this command:
July 1936
Ensign, USS Mississippi
---
Others at this command:
---
Others at or embarked at this command:
January 1937
Ensign, USS Mississippi
---
Others at this command:
---
Others at or embarked at this command:
April 1937
Ensign, USS Mississippi
---
Others at this command:
---
Others at or embarked at this command:
September 1937
Ensign, USS Mississippi
---
Others at this command:
January 1938
Ensign, USS Mississippi
---
Others at this command:
July 1938
Lieutenant (j.g.), under instruction, Submarine Base New London, Connecticut
---
Others at this command:
January 1939
Lieutenant (j.g.), for assignment, 16th Naval District
---
Others at this command:
October 1939
Lieutenant (j.g.), USS S-38
June 1940
Lieutenant (j.g.), USS S-38
November 1940
Lieutenant (j.g.), USS S-38
April 1941
Lieutenant (j.g.), USS S-38
Manning is one of 56 members of the Class of 1935 on Virtual Memorial Hall.
The "category" links below lead to lists of related Honorees; use them to explore further the service and sacrifice of the alumni in Memorial Hall.