GEORGE T. MCCUTCHAN, CDR, USN
From USNA Virtual Memorial Hall
Lucky Bag
From the 1933 Lucky Bag:
Biography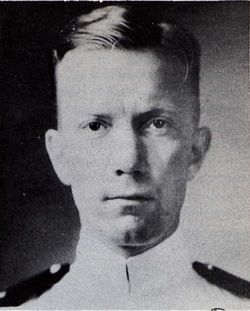 From the 1953 edition of the book "Double Three Roundup," published by the class of 1933:
As a member of '33B Mac received his commission in 1934 and in his first two years of sea duty served successively in the MARYLAND, TRENTON, RICHMOND and BERNADOU. Then from June 1936 until June 1937 he was a student at Pensacola, being designated Naval aviator on 12 May 1937. A year's duty in the CHESTER and almost two years in the AUGUSTA followed. From October 1940 until September 1941 he was attached to the Utility Unit of Aircraft, Asiatic Fleet.

On Pearl Harbor Day Mac was at the Naval Air Station, Corpus Christi. In July 1943 he left to assume command of Composite Squadron 43. In November of that year he fitted out and commanded Torpedo Squadron 305. Early in 1944 he was designated skipper of Air Group 11 in the Pacific, and remained in this command until his death by plane crash (not enemy action) on 24 August 1944.

Mac was survived by his wife, the former Katherine R. Holland of Annapolis, Maryland, two daughters, Katherine Rose and Mary Frances, and one son, Michael Vincent. They are living at 6 King Charles Place in Annapolis.
Loss
George was lost on August 24, 1944 in an aviation accident involving a F6F-3 near Pearl Harbor while operating from USS Ranger (CV 4). He was the commander of Air Group (CAG) 11.
His wife was listed as next of kin.
George is one of 38 members of the Class of 1933 on Virtual Memorial Hall.