FLOYD B. PARKS, MAJ, USMC
From USNA Virtual Memorial Hall
Date of birth: January 15, 1911
Date of death: June 4, 1942
Age: 31
Lucky Bag
From the 1934 Lucky Bag:
Loss
Floyd was lost when his Brewster F2A Buffalo was shot down on June 4, 1942, during the Battle of Midway.
Biography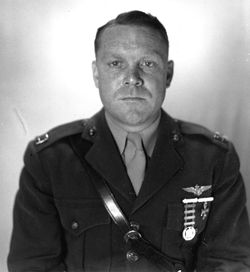 From Wikipedia's entry on Floyd:
Parks was born in Salisbury, Missouri, the first child of James B. Parks and his wife Elizabeth Ann Bowman. James Parks was a widower with one son from his first marriage. Floyd Parks also had a younger brother, Billy Bowman Parks, born in 1921. Their father died on 3 February 1924.

Floyd Parks enlisted in the United States Navy in 1928 and served two years aboard destroyers. In 1930, he received an appointment to the United States Naval Academy. Parks earned the infamous Black "N" award, given for major infractions, on a number of occasions. He sang in the Midshipman Choir and was a member of Annapolis' water polo team, also participating in football and swimming. Parks graduated in the upper third of his class of 1934, and chose a commission in United States Marine Corps. He was appointed a second lieutenant on June 1 and assigned to the Philadelphia Navy Yard for a year, before serving on the cruiser USS Astoria (CA-34). In May 1936, he reported to Naval Air Station Pensacola for flight training. While swimming in the Gulf of Mexico, Parks and an enlisted man rescued a Marine private from drowning, winning commendation for his "quick action, good judgment and swimming ability".

Parks was designated a Naval Aviator on 12 June 1937, and in August reported to Naval Air Station San Diego, California. The following year, he married Margaret Elizabeth Murray of El Paso, Texas. In June 1940, he was reassigned to NAS Pensacola as a flight instructor. In May 1941, he transferred to the First Marine Aircraft Wing, Fleet Marine Force, Quantico, Virginia, and trained as a dive bomber pilot. He remained in that assignment until March 1942, when he joined the Second Marine Aircraft Wing in San Diego for deployment to Midway.

He was promoted to the rank of major on 8 May 1942, and given command of Marine Fighting Squadron 221 (VMF-221). Parks' squadron was predominantly equipped with Brewster F2A-3 (Model B-439) fighter aircraft, supplemented by a handful of Grumman F4F-3 Wildcats, all handed down from U.S. Navy squadrons. More than half of the aviators assigned to Parks' unit were fresh from flight training in San Diego.
From Hall of Valor:
The President of the United States of America takes pride in presenting the Navy Cross (Posthumously) to Major Floyd Bruce Parks (MCSN: 0-5006), United States Marine Corps, for extraordinary heroism and distinguished service in the line of his profession while serving as Squadron Commander and a Pilot in Marine Fighting Squadron TWO HUNDRED TWENTY-ONE (VMF-221), Marine Air Group TWENTY-TWO (MAG-22), Naval Air Station, Midway, during operations of the U.S. Naval and Marine Forces against the invading Japanese Fleet during the Battle of Midway on 4 June 1942. Leading his squadron in a dauntless and aggressive attack against a vastly superior number of Japanese bomber and fighter planes, Major Parks aided in disruption the plans of the enemy and lessening the effectiveness of their attack, thereby contributing materially to the success of our forces. As a result of his courageous and daring tactics and because of the circumstances attendant upon this engagement, there can be little doubt that Major Parks gallantly gave up his life in the service of his country. He displayed the characteristics of a fine leader and excellent airman in keeping with the highest traditions of the United States Naval Service.

General Orders: Approved by the Secretary of the Navy on November 10, 1942
Action Date: 4-Jun-42
Service: Marine Corps
Rank: Major
Company: Marine Fighting Squadron 221 (VMF-221)
Regiment: Marine Air Group 22 (MAG-22)
Division: Naval Air Station, Midway
Namesake
USS Floyd B. Parks (DD 884) was named for him; his widow was present at the commissioning ceremony.
Family
In addition to his wife — whose name isn't ever published — he was survived by his mother, Elizabeth Ann, and his brother, Billy.
Floyd is one of 41 members of the Class of 1934 on Virtual Memorial Hall.