JOHN A. BUTLER, LTCOL, USMC
From USNA Virtual Memorial Hall
Date of birth: September 30, 1910
Date of death: April 5, 1945
Age: 34
Lucky Bag
From the 1934 Lucky Bag:
Loss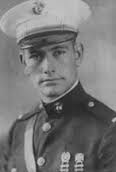 John was killed March 5, 1945 on Iwo Jima. He was Commanding Officer, 1st Battalion, 27th Marines.
His wife was listed as next of kin.
From LtCol John Butler and 1st Battalion, 27th Marines:
THE DEATH OF LTCOL BUTLER

About 1300, LtCol Butler mounted his jeep to head back to the regimental command post. With him were his driver, Pfc Stanley Barnett, and his radio operator. As the jeep bounced across country just west of the road junction, a Japanese 47mm antitank gun in the 3rd Marine Division sector fired. Struck by a direct hit, the jeep was destroyed, wounding the two enlisted Marines. LtCol John Butler was killed instantly. For his heroism leading LT 1/27 during the Iwo Jima campaign, the skipper would receive a posthumous Navy Cross.

Pfc Chuck Tatum, B 1/27, remembered the reaction: "The word about [LtCol Butler's] death swept through the ranks of the 1st Battalion like a wildfire. It was whispered from position to position. Those bastards got the Colonel! The news was a shock. A stillness fell on the battalion. The loss of LtCol Butler was hard to take. If the leader has fallen, who will be next? Morale was affected. LtCol Butler was an admired and respected officer and leader of men."

Doctor James Vedder, battalion surgeon of 3/27, related the following conversation with his commander, LtCol Donn Robertson, about LtCol Butler's death: "While the coffee was brewing on our Coleman stove, Colonel Robertson stopped in for one of his routine visits. As he settled slowly to the ground to accept a cup of hot coffee, he appeared both weary and worried. His usual calm self-assurance seemed shaken for the first time.

"What's gone wrong, Colonel?"
"Plenty, the Nips bagged Butler's jeep at a road junction southwest of here."
"How bad is he hurt?"
"Killed instantly."
"Who'll take over the 1st Battalion?"
"Wornham is sending up Colonel Duryea from regimental headquarters."
"I hope he can fill Butler's shoes…"

After the skipper died, LtCol Duryea, regimental operations officer, was sent to take over LT 1/27. On 6 March, the battalion spent the day in the assembly area. The line companies reorganized as well as they could. The next two days, companies and platoons were deployed individually to support other elements of the 27th Marines. Able went to LT 2/27, and remained there during the next several days. The objective was to push toward Kitano Point to Iwo Jima's north coast.
This blurb is from a very long, multi-page story; it discusses John throughout.
He was survived by his mother, Emily; his sister Emile; his brother Clinton; his wife, Emma Denise; and their "four young children." (One of them died in 2010.)
Remembrances
From LtCol_John_Butler_and_1st_Battalion_27th_Marines:
A Naval Academy graduate in the class of 1934, he was a tall, rawboned Marine with a dark complexion and sparse good looks. His southern roots were revealed in his New Orleans accent. At the academy he was nicknamed at various times, "Long John," "Black John" and "Cajun." A fluent Spanish speaker, Butler had already spent a decade of service moving between duty afloat with the 5th Marines and in Naval Intelligence.

Not only an officer of Marines, John Butler was also a husband and father. His wife, Denise, was a petite woman with light brown hair. The pair first met in 1931 during Christmas leave in Louisiana. John fell in love at first sight, but Denise proceeded with caution. The following Christmas at a watermelon party, the erstwhile Midshipman tried unsuccessfully to toss Denise into a tub of ice water to get her attention.

During his first class year, John gave Denise a miniature class ring during June Week. They decided to get married, but were forced to wait by the Marine Corps. Regulations prohibited a new officer from getting married until he had served at least two years. For several years, the couple exchanged a stream of letters back and forth as John traveled between ports of call as a seagoing Marine. Finally, on a warm summer day in 1936, John and Denise were married in a military wedding at Loyola's Holy Name Church in New Orleans.

Before the war, the Butlers were stationed in Panama, Quantico, and the Dominican Republic. Moving from place to place was a way of life in the Corps, yet the family grew on a regular basis. Daughter Mary Jo arrived first in 1937 and son John was born in 1939. He was soon christened, "Johnny Boy." Soon Denise, whom her husband nicknamed "Honey Gal," knew how to pack and move like a salty gunnery sergeant.

In early 1940, then-Captain Butler was assigned to the Naval Attaché office at the U. S. Embassy in the Dominican Republic. There he spent over three years collecting intelligence on Nazi agents and sympathizers in the Caribbean. Although this was an important mission, Butler wanted a combat assignment. He felt a sense of duty to get into the war and applied for transfer to the Fleet Marine Force.

The Butlers' third child, Morey, was born in mid-1943. Late that year, then-Major Butler received a promotion and the assignment he'd dreamed about. With orders to proceed through a staff and command course at Marine Corps Base, Quantico, LtCol Butler was bound for Camp Pendleton and the 5th Marine Division. He flew on ahead to Quantico while Honey Gal packed up their household and left the Dominican Republic with the children.

Traveling by plane and train, Honey Gal and the kids made their way to join John at Quantico. The family was billeted in temporary housing and the baby, Morey, slept in a dresser drawer. Johnny Boy, who only spoke Spanish, ran around the base trying to make friends, but none of the other kids understood what he was talking about. Dad completed his course in December 1943 and the Butlers loaded up their Studebaker sedan for a long cross-country trip to California. As Honey Gal would later remember, the kids left a trail of spilt milk across the United States.

The family arrived at Camp Pendleton in mid-January 1944. In the hectic atmosphere of a division preparing for war, John was first billeted as the Executive Officer of the 27th Marines. Sadly, his father passed away in New Orleans and John returned home for nine days of emergency leave. Shortly after returning to Camp Pendleton, he was assigned to command 1/27.

…Sometimes LtCol Butler took his son, John, to the base. Johnny Boy liked riding in his dad's jeep, eating Marine chow, and hanging around with the Gyrenes of the battalion. It was all very impressive to a four-year-old boy.

The Butlers had a family pet; an Airedale named "Yaqui Boy" whom they had acquired in the Dominican Republic. LtCol Butler tried unsuccessfully to enlist Yaqui Boy as a war dog. The dog flunked K-9 boot camp, but still hung around Camp Pendleton with the Colonel and his Marines. A few days after the battalion shipped out in August 1944, Yaqui Boy ran away and the family never found him. Mrs. Butler told the children he probably got lost trying to get to Camp Pendleton to find his Marines.
From Hall of Valor:
The President of the United States of America takes pride in presenting the Navy Cross (Posthumously) to Lieutenant Colonel John Augustus Butler (MCSN: 0-4987), United States Marine Corps, for extraordinary heroism as Commanding Officer of the First Battalion, attached to the Twenty-Seventh Marines, FIFTH Marine Division, during operations against enemy Japanese forces on Iwo Jima in the Volcano Islands, from 19 February to 5 March 1945. Landing with his battalion in the fourth wave on D-Day, Lieutenant Colonel Butler quickly advanced his men over ground swept by heavy hostile mortar and artillery fire to a position approximately 150 yards inland from the beach, where he promptly established his command post on top of an enemy occupied blockhouse. Directing his troops from this dangerous position as they made their tortuous way over the shifting, volcanic sands and gun-studded terraces toward Motoyama Airfield Number One, he repeatedly exposed himself to the smashing bombardment of powerful Japanese gun-batteries and, subsequently unable to obtain satisfactory information regarding the progress of battle, unhesitatingly moved forward to the base of the airfield. With observation masked from this point, he fearlessly advanced to the top of the field, moved out under the unabated fury of hostile fire, and making a personal reconnaissance of the area, observed that his left assault company had circled the southern edge of the field but his right assault unit had been stopped in its advance by the overwhelming volume of Japanese fire. Disregarding all personal danger, he returned across the contested area under the direct fire of enemy riflemen concealed in the debris of wrecked planes and directed his right assault company forward. Cool and indomitable as the intrepid unit surged across the field in the face of savage resistance, Lieutenant Colonel Butler, by his daring combat tactics, outstanding valor and determined aggressiveness in the early critical stages of battle, had inspired his men to heroic performance during the final phase of this assault which culminated in the seizure of the entire southern end of the vital Japanese position before the close of D-plus-2. His dynamic leadership and astute military acumen throughout reflect the highest credit upon Lieutenant Colonel Butler and upon the United States Naval Service. He gallantly gave his life for his country.

General Orders: Commander in Chief Pacific Forces: Serial 35224 (September 24, 1945)
Action Date: February 19 - March 5, 1945
Rank: Lieutenant Colonel
Battalion: 1st Battalion
Regiment: 27th Marines
Division: 5th Marine Division

John is one of 41 members of the Class of 1934 on Virtual Memorial Hall.