JOHN E. DUNN, LCDR, USN
From USNA Virtual Memorial Hall
Date of birth: October 7, 1915
Date of death: December 13, 1946
Age: 31
Lucky Bag
From the 1939 Lucky Bag:
Loss
John was lost in a training flight from Norfolk, VA, on December 13, 1946.
From "Gold Star Wives of America:"
Marie Deaton (Dunn) Liechty, was born in Shreveport, LA April 22, 1922. She married John Edward Dunn, Oct 7, 1915. They met in Miami, FL spring of 1946. Marie was a stewardess with National Airlines. Cmdr. Dunn was in Naval flight training, Miami, FL. They were married Nov. 7, 1946, Naval Air Station Chapel, in Norfolk, VA.
(Note: there is more in this book, but it makes claims unsupported by any other evidence: specifically, that John was awarded the Congressional Medal of Honor and escaped captivity three times before serving in the French Underground.)
Wartime Service
John was flying from USS Wasp (CV 17) when he made a navigation error and was forced to ditch in the sea off of Norway. He was captured by German forces and spent the remainder of the war in Germany.
Legion of Merit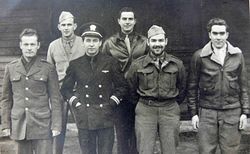 From
Hall of Valor:
SYNOPSIS: Lieutenant John E. Dunn (NSN: 0-82354), United States Navy, was awarded the Legion of Merit for exceptionally meritorious conduct in the performance of outstanding services to the Government of the United States while a Prisoner of War in Germany. Lieutenant Dunn rendered outstanding service to the United States and to our prisoners of war from 14 April 1943 to 29 April 1945.

General Orders: Bureau of Naval Personnel Information Bulletin No. 345 (December 1945)
Action Date: April 14, 1943 - April 29, 1945
Service: Navy
Rank: Lieutenant
Division: Prisoner of War (Bavaria)
Prisoner of War Medal
From Hall of Valor:
Lieutenant, Junior Grade John E. Dunn (NSN: 0-82354), United States Navy, was captured in and held as a Prisoner of War by the Germans until his release at the end of hostilities on 29 April 1945.

General Orders: NARA Database: Records of World War II Prisoners of War, created, 1942 - 1947
Action Date: April 14, 1942 - April 29, 1945
Service: Navy
Rank: Lieutenant Junior Grade
Division: Prisoner of War (Bavaria)