RALPH R. BEACHAM, LCDR, USN
From USNA Virtual Memorial Hall
Lucky Bag
From the 1935 Lucky Bag:
Loss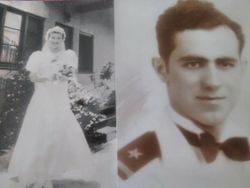 From History of Patrol Squadron (VP) 6 (Wikipedia):
29 August 1943: Lieutenant Commander Ralph R. Beacham and his crew of five were lost between Bellingham and Everett, Washington, in inclement weather during a routine instrument training flight in a PV-1 (BuNo. 34637). A search for the aircraft was begun when it became overdue, but the dense tree cover in the mountains and poor visibility due to bad weather conditions prevented the search teams from finding the aircraft or crew.
From VP Navy:
Pilot of the Ventura was LCDR Ralph R. Beacham, a 1935 graduate of the US Naval Academy. Beachem was an experienced pilot. He had 2,594 hours in his logbook including more than 80 hours in PV-1s within 90s of what would be his last flight. He was also a Pearl Harbor survivor, having been assigned as the pilot of an observation plane on the battleship USS West Virginia at the time of the Japanese attack.
From Find A Grave:
Ralph was the son of Sidney and Margharetta Bell (Ritter) Beacham

He was married to Virginia Mae (Callender)Beacham and they had two children: Sidney Beacham and Ralph Ritter Beacham Jr.
He has a memory marker in Oregon and another in Pennsylvania. He is buried in Arlington National Cemetery.
Recovery
From a news article published on May 20, 1998, via Arlington Cemetery.net:
Lieutenant Commander Ralph Beacham pulled his PV-1 Vega Ventura onto the runway. He gunned his 2,000-horsepower engines. It was 1:22 p.m. on Aug. 29, 1943. The sky -- and oblivion -- beckoned.

There were six on board for what the official report would call "a routine instrument training flight. Beacham and his co-pilot, Ensign Charles E. Nestor. Machinist mates Carl Brown and Livio DeMarco. Ordnance man Robert W. Gray. Radio man Peter LaValle.

The weather was fine at Whidbey Naval Air Base, midway between Seattle and the Canadian border. But to the east, in the mountains, conditions were not so good.

Beacham was a seasoned pilot, with five years of experience. This crew was ticketed overseas, to join the war against Japan; their squadron, VP-146, would fight valiantly in the Southwest Pacific, from Tarawa to the Philippines.

The PV-1, with a range of 1,350 miles, remained in contact with its base for two hours, until 3:22 p.m. And then to all appearances PV-1 No. 34637 disappeared from the face of the Earth.

All planes were recalled to base. They searched until darkness fell and again the next day.

Eventually, they gave up. The sad news was relayed to families in New York, California, Indiana, South Dakota, Oregon, Florida: The plane was presumed lost at sea, the men missing but presumed drowned.

And that is how they remained, for 51 years.

The war was won, the boys came home, America was launched as a colossus. The Iron Curtain went up, and then came down. Six families mourned absent sons, placing flowers at monuments that marked no graves.

In October 1994, Charles Eaton, a 55-year-old welder from Bellingham, Washington was hiking on Mount Baker, a dormant, ice-capped volcano 50 miles northeast of Whidbey Island.

At 7,500 feet, Eaton fell upon a jumble of blackened metal, human bones, engine parts, live ammunition, machine guns, life rafts and carbon dioxide bottles -- the detritus of PV-1 No. 34637.

"The plane crashed into the glacier, Eaton said. And much of it remains there, imbedded in the ice.

Three recovery missions came away with dog tags, a sailor's cap (if you looked hard, you could see the name "LaValle) and 350 bone fragments.

Had those bones been found 10 years before, there would have been no way to identify them. But now, scientists had the tools.

At the Armed Forces DNA Identification Laboratory at Rockville, Maryland, they extracted genetic material from six left hip bones. Blood testing kits were dispatched to the families.

Matches were made. And in 1996, 53 years after their final flight, remains of these six men came home to stay.

A tribute was held at Arlington National Cemetery, where those bones that could not be matched were buried in a single grave. Relatives of the dead crewmen met, and came to know each other. Livio DeMarco's brother and sister-in-law, Nello and Amelia, still exchange phone calls, letters and cards with Santa Brooks, sister of Peter Lavalle.

"My wife sometimes calls her at the drop of a hat. They talk quite a while, mostly about what's new with our families, says Nello.

They have something crucial in common. Many years ago, they lost their brothers, and now they have them back.

The years have not diminished the need to have the boys -- and they will always be boys -- close at hand. Now, the families know what happened; now, they know that when they place flowers on graves on Memorial Day, their loved ones rest below.

For these six families, World War II has only recently come to an end.
Ralph is one of 56 members of the Class of 1935 on Virtual Memorial Hall.