LESTER S. WALL, JR., CDR, USN
From USNA Virtual Memorial Hall
Date of birth: April 13, 1916
Date of death: April 5, 1950
Age: 33
Lucky Bag
From the 1939 Lucky Bag:
Loss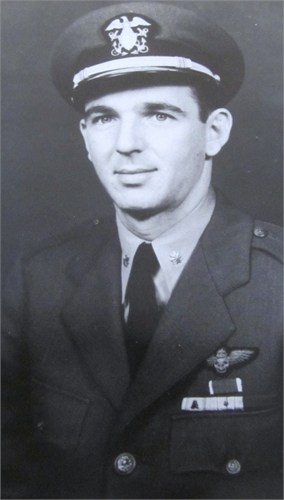 Lester was lost when the F8F Bearcat he was piloting crashed near Miramar, California, on April 5, 1950. He was executive officer of Composite Squadron (VC) 61.
He is buried in Arlington National Cemetery.
Wartime Service
He flew several aircraft, including the F4F, F6F, F4U, F8F, and F2A. He deployed in USS Intrepid (CV 11), USS Enterprise (CV 6), and USS Lexington (CV 16).
He was wounded and forced to ditch his F4U Corsair on June 12, 1943 while a pilot with Fighting Squadron (VF) 11.
From Hall of Valor:
The President of the United States of America takes pleasure in presenting the Navy Cross to Lieutenant Commander Lester Seneca Wall, Jr. (NSN: 0-82554), United States Navy, for extraordinary heroism in operations against the enemy while serving as Pilot of a carrier-based Navy Fighter-Bomber, in action on 28 July 1945, while deployed over Kure, Japan. As Flight Leader he led his flight in a bombing attack against the enemy battleship ISE at Kure, Honshu, Japan. In the ensuing action he pressed home the attack at an extremely low level in the face of medium and heavy anti-aircraft fire, personally scoring a damaging bomb hit on the ISE. His disregard for personal safety and determination to inflict damage upon the enemy were in keeping with the highest traditions of the United States Naval Service.

General Orders: Commander 2d Carrier Task Force Pacific: Serial 01854 (September 18, 1945)
Action Date: 28-Jul-45
Service: Navy
Rank: Lieutenant Commander
Company: Bombing Fighting Squadron
The "Register of Commissioned and Warrant Officers of the United States Navy and Marine Corps" was published annually from 1815 through at least the 1970s; it provided rank, command or station, and occasionally billet until the beginning of World War II when command/station was no longer included. Scanned copies were reviewed and data entered from the mid-1840s through 1922, when more-frequent Navy Directories were available.
The Navy Directory was a publication that provided information on the command, billet, and rank of every active and retired naval officer. Single editions have been found online from January 1915 and March 1918, and then from three to six editions per year from 1923 through 1940; the final edition is from April 1941.
The entries in both series of documents are sometimes cryptic and confusing. They are often inconsistent, even within an edition, with the name of commands; this is especially true for aviation squadrons in the 1920s and early 1930s.
Alumni listed at the same command may or may not have had significant interactions; they could have shared a stateroom or workspace, stood many hours of watch together… or, especially at the larger commands, they might not have known each other at all. The information provides the opportunity to draw connections that are otherwise invisible, though, and gives a fuller view of the professional experiences of these alumni in Memorial Hall.
October 1939
Ensign, USS Enterprise
---
Others at this command:
---
Others at or embarked at this command:
June 1940
Ensign, USS Wasp
---
Others at this command:
---
Others at or embarked at this command:
November 1940
Ensign, USS Wasp
---
Others at this command:
---
Others at or embarked at this command:
April 1941
Ensign, USS Wasp
---
Others at this command:
---
Others at or embarked at this command:
Lester is one of 78 members of the Class of 1939 on Virtual Memorial Hall.
The "category" links below lead to lists of related Honorees; use them to explore further the service and sacrifice of the alumni in Memorial Hall.