LESTER S. WALL, JR., CDR, USN
From USNA Virtual Memorial Hall
Birthdate & Date of Loss
| | |
| --- | --- |
| Date of birth: | April 13, 1916 |
| Date of death: | April 5, 1950 |
| Age: | 33 |
Lucky Bag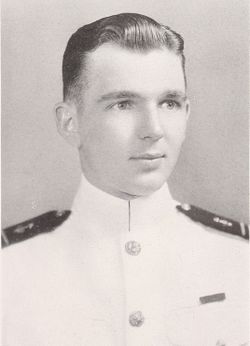 From the 1939 Lucky Bag:
LESTER SENECA WALL

NORTH ATTLEBOROUGH, MASSACHUSETTS

Let, Les, Wally

Les came to the Naval Academy from up New England way, bringing with him a typical New England drawl and a burning desire to get ahead in this man's Navy. Academics failed to dim this enthusiasm, and he is still all for that idea. He also brought along a heart interest, and stoutly maintains that they are not all fickle. Determination and perseverance are his greatest virtues, coupled with his ever ready smile and cheerful disposition. He would rather bone Redbook than study, and is an exceedingly unorthodox poker player. However, he has a great deal of the stuff of which naval officers are made, and should end up somewhere near the top. Here's wishing you a pleasant voyage, and happy landings, Lct.

Football Manager 4, 3; Small Bore Rifle Manager 2; Juice Gang 4, 3, 2, 1; Christmas Card Committee; M.P.O.
Loss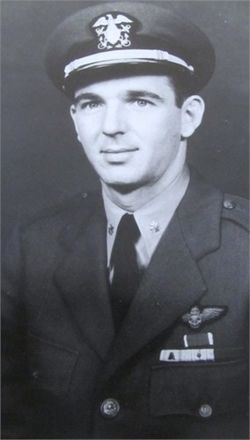 Lester was lost when the F8F Bearcat he was piloting crashed near Miramar, California, on April 5, 1950. He was executive officer of Composite Squadron (VC) 61.
He is buried in Arlington National Cemetery.
Wartime Service
He flew several aircraft, including the F4F, F6F, F4U, F8F, and F2A. He deployed in USS Intrepid (CV 11), USS Enterprise (CV 6), and USS Lexington (CV 16).
He was wounded and forced to ditch his F4U Corsair on June 12, 1943 while a pilot with Fighting Squadron (VF) 11.
From Hall of Valor:
The President of the United States of America takes pleasure in presenting the Navy Cross to Lieutenant Commander Lester Seneca Wall, Jr. (NSN: 0-82554), United States Navy, for extraordinary heroism in operations against the enemy while serving as Pilot of a carrier-based Navy Fighter-Bomber, in action on 28 July 1945, while deployed over Kure, Japan. As Flight Leader he led his flight in a bombing attack against the enemy battleship ISE at Kure, Honshu, Japan. In the ensuing action he pressed home the attack at an extremely low level in the face of medium and heavy anti-aircraft fire, personally scoring a damaging bomb hit on the ISE. His disregard for personal safety and determination to inflict damage upon the enemy were in keeping with the highest traditions of the United States Naval Service.

General Orders: Commander 2d Carrier Task Force Pacific: Serial 01854 (September 18, 1945)
Action Date: 28-Jul-45
Service: Navy
Rank: Lieutenant Commander
Company: Bombing Fighting Squadron