ROBERT C. STIMSON, LT, USN
From USNA Virtual Memorial Hall
Birthdate & Date of Loss
| | |
| --- | --- |
| Date of birth: | May 27, 1917 |
| Date of death: | April 17, 1944 |
| Age: | 26 |
Lucky Bag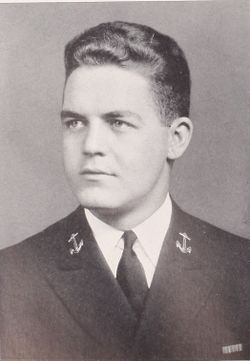 From the 1940 Lucky Bag:
ROBERT CHARLES STIMSON

Shelby, Ohio

People like "Steamer." His large group of friends grew out of a hobby that is as natural and as genuine as is "Steamer" himself. This hobby of collecting acquaintances and making them friends is the kindly manifestation of a deep seated interest in all manner of folk. "Steamer" does not show the coarse thread of Ohio's homespun. The facets of the stone of Life have reflected light on his twenty-one years, generously coloring them with grand and humble experiences alike. A lively sense of humor, a suave tongue, personable features, and a quick mind kindle his personality; "Steamer" is like the old shoe, he fits everywhere.
Loss
Robert was lost in an [aircraft accident near Charleston, RI on April 17, 1944.
Obituary
From Find A Grave:
Word was awaited by relatives here today of military arrangements for funeral services for Lietenant (S.G.) ROBERT CHARLES STIMSON, 26, fighter pilot of the U.S. Naval Air Corps., whose death in a mid-air collision with another plane at Charlestown, Rhode Island, was announced Tuesday by the Navy Department. Further details of the fatal crash had not been received here by today noon except that the accident occurred during formation night flying.

Death ended a brilliant naval career for the young flier. Lieutenant Stimson was transferred to the Rhode Island base about two weeks ago from Daytona Beach, Florida, where he had served as a divebomber pilot trainer. There he had flown dauntless divebombers. He had earlier transferred to the Air Corps in October 1942 and received his wings on his 26th birthday in May of 1943.

Son of Mr. & Mrs. James Stimson, of 78 East Whitney Ave. (Shelby). Lieut. Robert was born on May 27, 1917, was graduated from the local high school in 1935 and soon entered preparatory school. After six months of prep school, he entered the U.S. Naval Academy at Annapolis, graduating in June 1940.

Lieut. Stimson first saw active service as assistant navigator on the USS Idaho. He was transferred to the battleship USS Washington and became a member of her original officer personnel upon her launching at the Philadelphia navy yards on May 22, 1941. He was serving as captain of Number One gun turret upon his transfer to the air corps.

While serving on the USS Washington, Lieut. Stimson saw duty on the Murmansk convoy and at Iceland. One of the most cherished possessions of the family is a picture of the lieutenant walking between King George VI of England and Admiral Stark, chief of naval operations, taken while he was conducting the two officials during an inspection of the battleship.

Surviving are the widow, Ann, who was with him at the Rhode Island base; two children, Nancy 2 & a half, and a two-month old infant son, Robert Charles Jr.; two sisters, Mrs. E.A. Sprow, of Detroit and Mrs. Dorothy J. Faran, of Shelby; a grandfather, M.C. Guthrie, of Crestline and his parents of Shelby.

Lieut. Stimson was last home to visit his parents about 2 weeks ago, during the time of his tranfer to the Charlestown base. Mrs. Stimson accompanied him to his new assignment, leaving the two children with Robert's parents. Daily Globe, Friday, 21 April 1944