CURTIS W. HOWARD, LTJG, USN
From USNA Virtual Memorial Hall
Date of birth: August 31, 1917
Date of death: June 4, 1942
Age: 24
Lucky Bag
From the 1938 Lucky Bag:
Obituary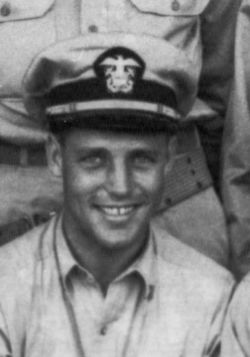 From Find A Grave:
Jasper Victor Howard and Prudence Estelle Wyman were married in Olympia, WA on 28 May 1914. He was a surgeon in the US Navy and retired with the rank of Commander. They were the parents of at least four children: Hugh Wyman, Curtis William, Prudence Wyman, and Jasper Victor Howard Jr. Hugh served during WWII in the Navy and retired as a Commander. Jasper served in the Navy during WWII and Korea and retired USNR as a Lieutenant Commander

Curtis began his naval career on 7 Jun 1934 as an appointee from California to the US Naval Academy in Annapolis, MD. …

Curtis graduated on 2 Jun 1938 with a commission as an Ensign. He reported to the USS Pensacola (CA-24), a heavy cruiser, on 30 Jun 1938 as his first of sea duty tour. He detached from USS Pensacola on 11 Sept 1939, and about a week later on 19 Sept 1939, he reported aboard the USS Greer (DD-145), a destroyer located at the Philadelphia Navy Yard. Ens. Howard detached from USS Greer on 5 July 1940 and reported to the US Naval Air Station, Pensacola, FL on 29 July 1940 to begin flight training. He completed all phases of his flight instruction and was designated a naval aviator on 23 Jan 1941. Several weeks later on 07 Feb 1941 he was transferred to NAS Miami for several weeks of additional training. On 7 April he reported for duty to Torpedo Squadron Three (VT-3) assigned to the USS Saratoga (CV-3). The following day, 08 April 1941, he was promoted to Lieutenant Junior Grade (Ltjg).

Just after the Japanese attack on Pearl Harbor, Saratoga (CV-3) was the flagship of the unsuccessful American effort to relieve the American garrison on Wake Island. Several weeks later, Saratoga was torpedoed by a Japanese submarine. She returned to the West Coast shipyard at Bremerton for more extensive repairs. During the yard period Saratoga's embarked squadrons were transferred elsewhere. VT-3 was assigned first to NAS Pearl Harbor at Ford Island then to NAS Kaneohe Bay on Hawaii.

On 28 May 1942 the squadron was reassigned to the USS Yorktown (CV-5). About a week later on 4 June 1942 Ltjg Howard and his gunner ARM1 Harold C. Lundy Jr., launched from the flight deck of USS Yorktown (CV-5) with other elements of the Yorktown air group to attack the Japanese Striking Forces approaching Midway. Although they had some friendly fighter protection enroute to their targets VT-3 had to thread their way through a gauntlet of swarming enemy fighters and a hail of anti-aircraft fire. Of the twelve planes that took off from the Yorktown that morning only two survived the attack, but had to ditch later in the vicinity of friendly forces. Ltjg Howard and Petty Officer Lundy did not return from this mission, and they were listed as missing in action. Their remains were unrecoverable. bio compiled by G47
His mother was listed as next of kin.
From naval aviation historian Richard Leonard via email on February 9, 2018:
NAS Pensacola attached for HTA flight training, 7/29/1940
NAS Pensacola designated NA # 7090, 1/30/1941
VT-3 USS Saratoga (CV-3), 4/4/41
Date of rank LTJG from 1 Jul 1941 USN Register, 6/2/1941
VT-3 (Flight Officer) USS Yorktown (CV-5) NX PH KIA BNR, 6/4/1942
From Hall of Valor:
The President of the United States of America takes pride in presenting the Navy Cross (Posthumously) to Lieutenant, Junior Grade Curtis William Howard (NSN: 0-81335), United States Navy, for extraordinary heroism in operations against the enemy while serving as Pilot of a carrier-based Navy Torpedo Plane of Torpedo Squadron THREE (VT-3), attached to the U.S.S. YORKTOWN (CV-5), during the "Air Battle of Midway," against enemy Japanese forces on 4 June 1942. Participating in a Torpedo Plane assault against Japanese naval units, Lieutenant, Junior Grade, Howard, in the face of tremendous anti-aircraft fire and overwhelming fighter opposition, pressed home his attack to a point where it became relatively certain that, in order to accomplish his mission, he would probably sacrifice his life. Undeterred by the grave possibilities of such a hazardous offensive, he carried on, with extreme disregard for his own personal safety, until his squadron scored direct hits on two enemy aircraft carriers. His self sacrificing gallantry and fortitude were in keeping with the highest traditions of the United States Naval Service. He gallantly gave his life for his country.

General Orders: Bureau of Naval Personnel Information Bulletin No. 309 (December 1942)
Action Date: 4-Jun-42
Service: Navy
Rank: Lieutenant Junior Grade
Company: Torpedo Squadron 3 (VT-3)
Division: U.S.S. Yorktown (CV-5)
Namesake
USS Curtis W. Howard (DE 752) was launched and christened in 1944 by his mother, Prudence W. Wohleb, but never completed.
Curtis is one of 71 members of the Class of 1938 on Virtual Memorial Hall.