ALLAN C. EDMANDS, LCDR, USN
From USNA Virtual Memorial Hall
Lucky Bag
From the 1935 Lucky Bag:
Obituary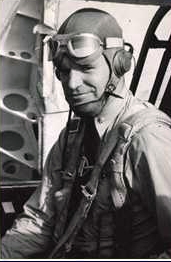 From Find A Grave:
ALLAN CHRISTIE ("Ace") EDMANDS, Sr., was born 10 June 1911 in Saugus, Massachusetts. He grew up in nearby Andover, graduating from high school in 1929 and enlisting in the Navy. He soon became a candidate for officer's training and was enrolled at the Naval Academy at Annapolis, graduating in 1935 and commissioned. In 1937, he married Mary Anna Hawes; they had three children: (Mary) Christine (1938), Allan Christie, Jr. (1942), and Anna Jane ("Janna," 1944).

Allan earned his "wings" from flight school in Pensacola in 1940, making his nickname "Ace" even more appropriate.Ace was stationed at Pearl Harbor in December 1941, serving on the light cruiser Astoria. When the Japanese attacked, the Astoria was out at sea. Ace flew missions in battles at the Coral Sea, Midway, Savo Island (where he was wounded and where the Astoria was sunk), and Tarawa. In one battle report, he confided to his captain that he wasn't sure how he would react at the sight of blood and gore: "I found out before the night was over. . . . I was amazed I wasn't more scared, but things happen so fast there isn't time."

In June 1944, as a Lieutenant Commander, Ace became skipper of Torpedo Squadron 5, and began training his men on TBM Avenger torpedo bombers. In January 1945, the squadron joined the aircraft carrier Franklin, which sailed as part of a huge task force for the final assault on the Japanese home islands, an assault expected to take up to a year and cost several hundred thousand American casualties. Missions against Kyushu targets began on 18 March, when the Franklin was within 60 miles of Japan.

On the morning of 19 March, Ace and his squadron were warming up their engines, preparing for a run on the strategic port of Kobe. A single Japanese bomber emerged from the clouds and dropped two 550-pound armor-piercing bombs on the Franklin. The two explosions were only the beginning; they ignited aviation fuel lines, bombs, rockets, and other ordnance aboard the ship, killing nearly a thousand men - Ace among them.
All of Torpedo Squadron (VT) 5's planes were lost; USS Franklin (CV 13) lost over 800 men that day.
His wife was listed as next of kin
Allan is one of 56 members of the Class of 1935 on Virtual Memorial Hall.