ALLAN C. EDMANDS, LCDR, USN
From USNA Virtual Memorial Hall
Lucky Bag
From the 1935 Lucky Bag:
Obituary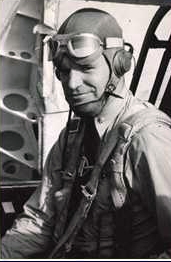 From Find A Grave:
ALLAN CHRISTIE ("Ace") EDMANDS, Sr., was born 10 June 1911 in Saugus, Massachusetts. He grew up in nearby Andover, graduating from high school in 1929 and enlisting in the Navy. He soon became a candidate for officer's training and was enrolled at the Naval Academy at Annapolis, graduating in 1935 and commissioned. In 1937, he married Mary Anna Hawes; they had three children: (Mary) Christine (1938), Allan Christie, Jr. (1942), and Anna Jane ("Janna," 1944).

Allan earned his "wings" from flight school in Pensacola in 1940, making his nickname "Ace" even more appropriate.Ace was stationed at Pearl Harbor in December 1941, serving on the light cruiser Astoria. When the Japanese attacked, the Astoria was out at sea. Ace flew missions in battles at the Coral Sea, Midway, Savo Island (where he was wounded and where the Astoria was sunk), and Tarawa. In one battle report, he confided to his captain that he wasn't sure how he would react at the sight of blood and gore: "I found out before the night was over. . . . I was amazed I wasn't more scared, but things happen so fast there isn't time."

In June 1944, as a Lieutenant Commander, Ace became skipper of Torpedo Squadron 5, and began training his men on TBM Avenger torpedo bombers. In January 1945, the squadron joined the aircraft carrier Franklin, which sailed as part of a huge task force for the final assault on the Japanese home islands, an assault expected to take up to a year and cost several hundred thousand American casualties. Missions against Kyushu targets began on 18 March, when the Franklin was within 60 miles of Japan.

On the morning of 19 March, Ace and his squadron were warming up their engines, preparing for a run on the strategic port of Kobe. A single Japanese bomber emerged from the clouds and dropped two 550-pound armor-piercing bombs on the Franklin. The two explosions were only the beginning; they ignited aviation fuel lines, bombs, rockets, and other ordnance aboard the ship, killing nearly a thousand men - Ace among them.
All of Torpedo Squadron (VT) 5's planes were lost; USS Franklin (CV 13) lost over 800 men that day.
His wife was listed as next of kin
The "Register of Commissioned and Warrant Officers of the United States Navy and Marine Corps" was published annually from 1815 through at least the 1970s; it provided rank, command or station, and occasionally billet until the beginning of World War II when command/station was no longer included. Scanned copies were reviewed and data entered from the mid-1840s through 1922, when more-frequent Navy Directories were available.
The Navy Directory was a publication that provided information on the command, billet, and rank of every active and retired naval officer. Single editions have been found online from January 1915 and March 1918, and then from three to six editions per year from 1923 through 1940; the final edition is from April 1941.
The entries in both series of documents are sometimes cryptic and confusing. They are often inconsistent, even within an edition, with the name of commands; this is especially true for aviation squadrons in the 1920s and early 1930s.
Alumni listed at the same command may or may not have had significant interactions; they could have shared a stateroom or workspace, stood many hours of watch together… or, especially at the larger commands, they might not have known each other at all. The information provides the opportunity to draw connections that are otherwise invisible, though, and gives a fuller view of the professional experiences of these alumni in Memorial Hall.
September 1937
Ensign, USS Boggs
January 1938
Ensign, USS Boggs
November 1940
Lieutenant (j.g.), under instruction, Naval Air Station Pensacola, Florida
Others at this command: LCDR George Grove '15, CDR William Sample '19, LT Finley Hall '29, LT John Yoho '29, LT William Pennewill '29, LT Lance Massey '30, LT Albert Major, Jr. '32, LT Daniel Gothie '32, LT Dewitt Shumway '32, LT George Bellinger '32, LT John Spiers '32, LT Martin Koivisto '32, ENS Frank Peterson '33, LTjg John Phillips, Jr. '33, LTjg Charles Ware '34, LTjg Charles Brewer '34, CAPT Floyd Parks '34, LTjg Frank Whitaker '34, LTjg George Nicol '34, LTjg Philip Torrey, Jr. '34, LTjg Walker Ethridge '34, LTjg John Powers '35, LTjg Richard Stephenson '35, LTjg Victor Gadrow '35, LTjg Porter Maxwell '36, LTjg Roy Krogh '36, LTjg Frank Henderson, Jr. '37, LTjg John Thomas '37, LTjg John Boal '37, LTjg Richard Hughes '37, ENS Alphonse Minvielle '38, ENS Carl Holmstrom '38, ENS Charles Anderson '38, ENS Charles King '38, ENS Charles Reimann '38, ENS Curtis Howard '38, ENS Donald Smith '38, 2LT Douglas Keeler '38, ENS Edmundo Gandia '38, ENS Eric Allen, Jr. '38, ENS Frank Quady '38, ENS Frank Case, Jr. '38, ENS Harry Bass '38, ENS Harry Howell '38, ENS Howard Clark '38, ENS Howard Fischer '38, ENS James Ginn '38, 2LT James Owens '38, ENS Jep Jonson '38, ENS John Kelley '38, ENS John Erickson '38, 2LT John Maclaughlin, Jr. '38, ENS John Eversole '38, ENS Leonard Thornhill '38, ENS Marion Dufilho '38, ENS Osborne Wiseman '38, ENS Oswald Zink '38, ENS Richard Crommelin '38, ENS Robert Seibels, Jr. '38, ENS Roy Green, Jr. '38, ENS Roy Hale, Jr. '38, ENS William Brady '38, ENS William Tate, Jr. '38, and ENS William Lamberson '38.
Allan is one of 56 members of the Class of 1935 on Virtual Memorial Hall.
The "category" links below lead to lists of related Honorees; use them to explore further the service and sacrifice of the alumni in Memorial Hall.