ROY J. KROGH, LT, USN
From USNA Virtual Memorial Hall
Lucky Bag
From the 1936 Lucky Bag:
Loss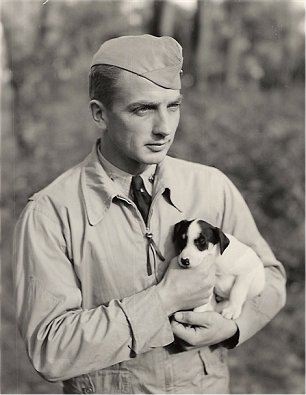 From Oz At War:
On 26 November 1942, US Navy PBY-5A Catalina, 4-P-101, BUNO #2407 from VP-101 made an extremely rough take-off from Exmouth Gulf in Western Australia and because of loss of oil pressure and high oil temperature on the port engine, it returned to Exmouth Gulf. A normal full stall landing was made, but near the end of the landing run, the aircraft hit a large wave, causing it to bounce into the air and on the subsequent landing large quantities of water entered the aircraft through the bombing window position in the bow. The aircraft sank in three fathoms of water in the surf just offshore shortly thereafter.

Damage: Plane completely submerged in salt water for nine days. Port wing tip float and port wing three feet from wing splice sheared off. Major overhaul recommended.

All of the crew made it out safely except for the pilot, Lt. Roy John Krogh, who was found in the water dead, having been struck by the still rotating propeller while exiting.

The War Diary of the Commander Fleet Air Wing Ten for 26 November 1942 says:

"#6 Catalina, pilot Lieutenant Roy J. Krogh, U.S.Navy, crash-landed alongside U.S.S. William B. Preston. Bombing window smashed flooding plane which sank. Lieutenant Krogh died as a result of head wounds and drowning. No other injuries to personnel."

Lt Krogh's body was flown to Perth on 27 November 1942 by Catalina #9. USS Heron carried out salvage operations on #6 Catalina during 3 - 4 December 1942.
His wife was listed as next of kin.
Roy was a member of Patrol Squadron (VP) 101.
Other
Roy was remembered by classmate Porter Bedell in the July, 1946 issue of Shipmate:
I knew Roy quite well, as we were in the same squadron for almost a year. I considered him about as good as they come, both professionally and personally. In those days we were all a little jittery, but I never once saw Roy lose his temper or get excited, nor did I ever hear anything but complimentary remarks connected with his name from the officers and also from the enlisted men. And that's pretty good! He was buried in the military cemetery in Perth, Western Australia.
The "Register of Commissioned and Warrant Officers of the United States Navy and Marine Corps" was published annually from 1815 through at least the 1970s; it provided rank, command or station, and occasionally billet until the beginning of World War II when command/station was no longer included. Scanned copies were reviewed and data entered from the mid-1840s through 1922, when more-frequent Navy Directories were available.
The Navy Directory was a publication that provided information on the command, billet, and rank of every active and retired naval officer. Single editions have been found online from January 1915 and March 1918, and then from three to six editions per year from 1923 through 1940; the final edition is from April 1941.
The entries in both series of documents are sometimes cryptic and confusing. They are often inconsistent, even within an edition, with the name of commands; this is especially true for aviation squadrons in the 1920s and early 1930s.
Alumni listed at the same command may or may not have had significant interactions; they could have shared a stateroom or workspace, stood many hours of watch together… or, especially at the larger commands, they might not have known each other at all. The information provides the opportunity to draw connections that are otherwise invisible, though, and gives a fuller view of the professional experiences of these alumni in Memorial Hall.
July 1936
Ensign, USS Colorado
---
Others at this command:
January 1937
Ensign, USS Colorado
---
Others at this command:
---
Others at or embarked at this command:
April 1937
Ensign, USS Colorado
---
Others at this command:
---
Others at or embarked at this command:
September 1937
Ensign, USS Colorado
---
Others at this command:
January 1938
Ensign, USS Colorado
---
Others at this command:
July 1938
Ensign, USS Shaw
January 1939
Ensign, USS Shaw
October 1939
Lieutenant (j.g.), USS Ramapo
June 1940
Lieutenant (j.g.), Naval Air Station Pensacola, Florida
---
Others at this command:
---
Others at or embarked at this command:
April 1941
Lieutenant (j.g.), Patrol Squadron (VP) 21, Pearl Harbor, Territory of Hawaii
Roy is one of 39 members of the Class of 1936 on Virtual Memorial Hall.
The "category" links below lead to lists of related Honorees; use them to explore further the service and sacrifice of the alumni in Memorial Hall.