LANCE E. MASSEY, LCDR, USN
From USNA Virtual Memorial Hall
Date of birth: September 20, 1909
Date of death: June 4, 1942
Age: 32
Lucky Bag
From the 1930 Lucky Bag:
Loss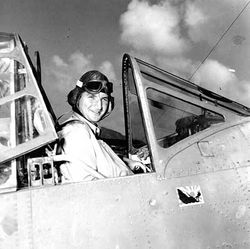 Lance was lost on June 4, 1942, when his torpedo bomber was shot down while attacking the Japanese aircraft carrier Sōryū during the Battle of Midway. He was commanding officer of Torpedo Squadron (VT) 3, flying from USS Yorktown (CV 5).
His wife was listed as next of kin; he was also survived by two sons. He has a memory marker in New York.
Remembrances
From Avenue of Heroes:
He left a lasting legacy in his family, Coronado, the Navy, and the United States. The Destroyer USS Massey was named for him and his numerous heroic actions, but had we asked him, he would have said he was "just doing his job."

He was a fun-loving, personable, outgoing guy who loved bonfires on the beach with friends – where he once hired a chauffeur who then transitioned to waiter for dinner under the stars with friends when stationed in Pensacola. He met his future wife at Agua Caliente Racetrack in 1935, and they later married and had two boys. Although the boys were very small when their father was killed, Lance B. still recalls his father as a hero in their home, "I remember one time my brother fell out of the car while it was moving to retrieve a stuffed toy and was banged up and bleeding pretty bad. My father scooped him up and carried him to the hospital. He was strong and lean and pretty tall to me." He was a hero then.

Born in New York on 20 September 1909; the only child of Walter Griffith Massey and Florence Lance Massey, he was raised in Watertown, New York, which had been founded by his great great grandfather, Hart Massey, in 1800. After two years of high school in Watertown, he entered Severn School in Severna Park, Maryland in the Fall of 1925 and graduated from Severn in 1926 – only three years in high school – he was only sixteen years old and entered the U.S. Naval Academy.

Four years later he graduated from the Naval Academy with the Class of 1930, was commissioned an Ensign, and assigned to the battleship USS Texas. In 1931 he entered flight training in Pensacola, Florida earning his Naval Aviator wings of gold in January 1932. For the next three years he was assigned to Scouting Squadron 3 aboard the aircraft carrier USS Lexington and as ship's company on Lexington. There followed a two-year tour in Pensacola, Florida as a Flight Instructor. It was during this period that he married Marjorie Drake Kelsey, widow of Lieutenant (junior grade) James Kelsey, USNA Class of 1931.

The Massey's had two sons, Lance Bradford Massey (born September 21, 1936), and Walter Drake Massey (born December 14, 1937). In June 1937 Lt(jg) Massey reported to Observation Squadron 3 on the battleship USS New Mexico out of Long Beach, California. He was promoted to Lieutenant in August 1937. His squadron was transferred to the battleship USS Idaho in January 1940 where he remained until July when he was reassigned to Pensacola, Florida. In October 1941 he became the Executive Officer of Torpedo Squadron 6 on USS Enterprise stationed on North Island and was in this squadron when the United States entered the war against Japan.

He moved his small family across the country from Florida to California in a 1935-ish Ford with wood paneling on the side. The total moving stipend for expenses is dated October 3, 1941 for $94.81 and his son still has the receipt in the stack of paperwork, orders, and memorabilia. The Navy was paying $.08 a mile. The family relocated in Coronado in a home on 7th and B Ave.

In January 1942, he was appointed Lieutenant Commander. The next seven months were extremely critical for the U.S. Navy carrier forces in the Pacific. Lance Massey participated in several major events of that period. On 1 February 1942, he led a group of 9 torpedo planes in the first airborne torpedo attack executed by the U.S. Navy. This action against Japanese surface vessels at Kwajalein Atoll, Marshall Islands resulted in his sinking of an 18,000 ton Japanese transport. It was for this action he was awarded the Distinguished Flying Cross. The following month USS Enterprise and embarked airwing escorted the USS Hornet for General Doolittle's famous bombing raid on Tokyo, Japan. He took command of Torpedo Squadron 3 on 14 April 1942. In June his squadron was aboard USS Yorktown at the Battle of Midway.

Mrs. Massey was first notified that her husband was "Missing in Action" by telegram. And then a year later by the same traditional method, confirmed "Killed in Action". The little family stayed in Coronado through the end of the war. "The Navy ordered us here, but we chose to stay," Lance B. says. Mrs. Massey had a strong, supportive Navy community for a war widow and two small children to raise with fond memories of the Coronado Trolley, playing till dark in Spreckels Park and walking to elementary school – an era before the Spanish Bight, the water that separated North Island from Coronado, was filled in (1945) to allow room for more building to ease WWII congestion.

Lt. Commander Massey's lasting legacy includes: On 19 August 1944, the U.S. Navy christened a destroyer in his name, USS MASSEY (DD-778) which his widow Marjorie Massey was honored to christen the ship. Both sons graduated from Severn School following in their father's footsteps, and Lance B. Massey graduated from the U.S. Naval Academy in 1958 and retired as a Commander in 1984. Lance B. Massey had two children, one son named for his grandfather, Lance E. Massey, who recently retired as a Captain in the Navy, and daughter Barbara Massey, co-owner and founder of Tartine bistro on First Street in Coronado. The family actively participates in reunions with the USS Massey Association in honor of Lt. Commander Massey, in which the family is honorary members with those who have served on her.
From Hall of Valor:
The President of the United States of America takes pride in presenting the Navy Cross (Posthumously) to Lieutenant Commander Lance Edward Massey (NSN: 0-63292), United States Navy, for extraordinary heroism in operations against the enemy while serving as Pilot of a carrier-based Navy Torpedo Plane and Commanding Officer of Torpedo Squadron THREE (VT-3), attached to the U.S.S. YORKTOWN (CV-5), during the "Air Battle of Midway," against enemy Japanese forces on 4 June 1942. Lieutenant Massey led his squadron in a Torpedo Plane assault against Japanese naval units, in the face of intense anti-aircraft fire and overwhelming fighter opposition. He pressed home his attack to a point where it became relatively certain that in order to fulfill his mission he would probably sacrifice his life. Undeterred by the grave possibilities of such a hazardous offensive, he carried on, with extreme disregard for his own personal safety, until his squadron scored direct hits on two enemy aircraft carriers. His self sacrificing gallantry and fortitude were in keeping with the highest traditions of the United States Naval Service. He gallantly gave his life for his country.

General Orders: American Battle Monuments Commission
Service: Navy
Division: U.S.S. Yorktown (CV-5)
Rank: Lieutenant Commander
Distinguished Flying Cross
From Hall of Valor:
SYNOPSIS: Lieutenant Commander Lance Edward Massey (NSN: 0-63292), United States Navy, was awarded the Distinguished Flying Cross for extraordinary achievement while participating in aerial flight during World War II.

General Orders: American Battle Monuments Commission
Service: Navy
Division: U.S.S. Yorktown (CV-5)
Rank: Lieutenant Commander
Namesake
USS Massey (DD 778) was named for Lance; the ship was sponsored by his widow.
Related Articles
His wife was previously married to James Kelsey, Jr. '31.
Lance is one of 42 members of the Class of 1930 on Virtual Memorial Hall.