NORMAN W. DOUDIET, LT, USN
From USNA Virtual Memorial Hall
Birthdate & Date of Loss
| | |
| --- | --- |
| Date of birth: | July 6, 1916 |
| Date of death: | November 13, 1942 |
| Age: | 26 |
Lucky Bag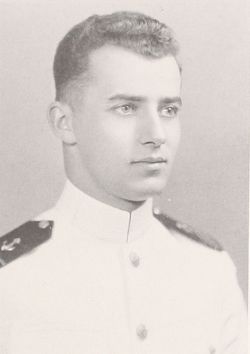 From the 1939 Lucky Bag:
WILLIAM NORMAN DOUDIET

BROOKLYN, NEW YORK

Norm, The Doud

Norm is a sandblower with a sense of humor out of proportion to his stature. Here is one midshipman who is able to smile and display his true disposition even before breakfast. While not a savoir, Norm has kept off the trees that count since his encounter with the Math Department plebe year. Maximum results in a minimum ot time is his rule. The Doud cares not particularly for the so-called weaker sex, but may be found on special occasions in Dahlgren with an above-average drag. A good bull session is much more to his liking, however. His supply of unbelievable but true tales appears limitless. In spite of his collection of odoriferous pipes we hope to be shipmates again with Norm.

Battalion Soccer 4, 3, 2, 1; Battalion Wrestling 4, 3, 2, 1; M.P.O.
Loss
Norman was lost in USS Juneau (CL 52) during the Naval Battle of Guadalcanal on November 13, 1942.
His wife was listed as next of kin. (Note that two of the listings have him as a LCDR; believe this to be in error as he was only promoted to LTjg on June 1, 1942.)