JACK E. BRENNER, LT, USN
From USNA Virtual Memorial Hall
Birthdate & Date of Loss
| | |
| --- | --- |
| Date of birth: | October 21, 1917 |
| Date of death: | December 27, 1942 |
| Age: | 25 |
Lucky Bag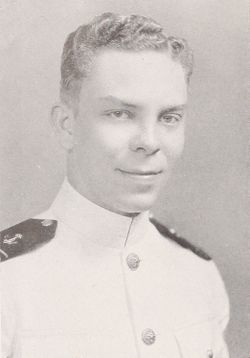 From the 1939 Lucky Bag:
JACK ELLIS BRENNER

OKMULGEE, OKLAHOMA

Jack, Jake

From a lonely little plebe with a lost air, Jack has become a self-controlled, nonchalant upperclassman. Okmulgee can justly be proud of him. He has taken part in several extra-curricular activities, made an excellent scholastic record, and helped many a wooden man along. Above all he has made lasting friendship—it comes naturally to him. Neither a redmike nor a snake, Jack has done his quota of dragging without placing too much emphasis on either role. To his inquisitive attitude towards everything in general can be attributed his habit of studying very little. Reading some current book during a study hour and then "guessing" his way to starring marks in class is an everyday occurrence with him. How does he do it? Even he doesn't know.

Boxing 4; Cross Country 4, 3; Company Rifle 2; Musical Club Show 4, 3, 2; Orchestra 4, 3, 2; Quarterdeck 2, 1; Star 4; 2 Stripes.
Loss
Jack was lost when the PB2Y-3 Catalina patrol plane he was piloting crashed into the Salton Sea in California on December 27, 1942. Seven men were killed; the remaining two were injured.
He is buried in Arlington National Cemetery; he was survived by his wife, Edna.