DAVID K. SLOAN, JR., LT, USN
From USNA Virtual Memorial Hall
Lucky Bag
From the 1938 Lucky Bag:
Loss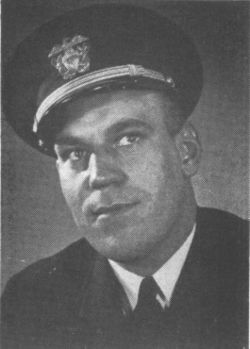 David was lost when USS Corvina (SS 226) was sunk on November 16, 1943 by a Japanese submarine. He was the boat's executive officer.
His parents were listed as next of kin. He has a memory marker in Pennsylvania.
Silver Star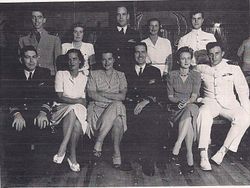 From Hall of Valor:
The President of the United States of America takes pleasure in presenting the Silver Star to Lieutenant David K. Sloan, Jr. (NSN: 81093), United States Navy, for gallantry and intrepidity in action against the enemy from 8 December 1941 through September 1942. While serving on board the U.S.S. SWORDFISH (SS-193) during the first five war patrols of that Submarine, he rendered inestimable assistance in sinking eleven enemy vessels totaling 75,200 tons, and in damaging an additional ship of 6,500 tons. Further, during the second war patrol, he was of invaluable aid in the successful execution of two special missions to Corregidor Fortress, evacuating President Quezon and his official party to Panay, and bring the United States High Commissioner of the Philippines and his official party to Australia. Throughout enemy counterattacks in which a total of 95 depth charges and bombs were dropped, his courage was an inspiration to those serving under him, and was in keeping with the highest traditions of the United States Naval Service.

Action Date: December 8, 1941 - September 1942
Service: Navy
Rank: Lieutenant
Division: U.S.S. Swordfish (SS-193)
Memorial Hall Error
David is listed in all documentation as Jr.; Memorial Hall omits this on both the Class of 1938 panel and the killed in action scroll.
David is one of 71 members of the Class of 1938 on Virtual Memorial Hall.