JAMES S. CLARK, CDR, USN
From USNA Virtual Memorial Hall
Date of birth: October 2, 1912
Date of death: June 14, 1944
Age: 31
Lucky Bag
From the 1935 Lucky Bag:
Loss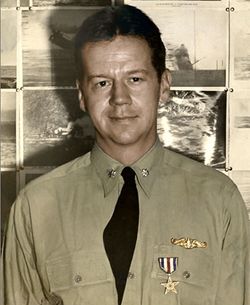 James was lost when USS Golet (SS 361) was sunk, probably by Japanese surface forces on June 14, 1944. He was the boat's commanding officer; he had taken command only a few weeks before, in May 1944. His previous billet had been XO of USS Swordfish (SS 193). (Swordfish was lost in early January 1945; it's likely he knew some or all of the men who were lost.)
His wife was listed as next of kin.
Career
From Fleet Organization:
Duty cfo Swordfish 1 Jul 1939
Communications Officer USS Swordfish (SS-193) 22 Jul 1939 - 1 Nov 1940
Executive Officer USS Swordfish (SS-193) Sep 1942 - 31 Mar 1943
Executive Officer USS Archerfish (SS-311) 4 Sep 1943 - Jan 1944
Executive Officer (PCO?) USS Golet (SS-361) 8 Mar 1944 - May 1944
Captain USS Golet (SS-361) 28 May 1944 - Jun 1944
Lieutenant (j.g.) 6 Jun 1938
Lieutenant 1 Jan 1942
Lieutenant Commander (T) 1 May 1943
Commander (T) 1 Mar 1944
Silver Star
From Together We Served:
The President of the United States of America takes pleasure in presenting the Silver Star to Lieutenant Commander James Seerley Clark (NSN: 0-75043), United States Navy, for conspicuous gallantry and intrepidity as Assistant Approach Officer and also as Torpedo and Gunnery Officer of the U.S.S. SWORDFISH (SS-193), in action against enemy Japanese forces in the Pacific Area during World War II. During four hazardous war patrols of his Submarine, Lieutenant Commander Clark rendered invaluable services by his skillful maintenance of torpedoes, insuring consistently straight, accurate runs, and by his splendid initiative in effectively solving the torpedo problem despite severe enemy depth charging and bombing. When the SWORDFISH was assigned two special missions to Corregidor Fortress, Lieutenant Commander Clark greatly assisted in the successful execution of these important tasks. His outstanding ability and inspiring leadership contributed materially to the destruction of eleven hostile vessels and the damaging of another, and were in keeping with the highest traditions of the United States Naval Service. General Orders: Commander 7th Fleet: Serial 02121 (October 22, 1943)

Service: Navy
Rank: Lieutenant Commander
Job: Assistant Approach Officer
Vessel: U.S.S. Swordfish (SS-193)
Memorial Hall Error
James was promoted to CDR before his death; Memorial Hall has LCDR.
James is one of 56 members of the Class of 1935 on Virtual Memorial Hall.