HARRINGTON M. DRAKE, CDR, USN
From USNA Virtual Memorial Hall
Date of birth: May 23, 1909
Date of death: May 1, 1945
Age: 35
Lucky Bag
From the 1931 Lucky Bag:
Loss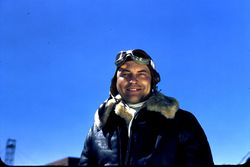 From Geneaology.com:
[Patrol Bomber Squadron VPB-119] operated under the direction & coordination of Fleet Air Wing 17 (FAW 17) while it was engaged in combat operations. Commander Harrington Max Drake was a member of the FAW 17 staff.

… Harrington Drake died on Hainan Island on 1 May 1945. When Cdr. Drake died, he was flying aboard a navy PB4Y-2 bomber piloted by a Lt. John W. Holt of VPB-119.The crew of this plane was crew #4 of the squadron - my dad's crew.

My dad was a radar counter measures technician and although he was primarily assigned to crew #4, he was often assigned to fly with other crews, depending upon the mission requirements. On May 1, 1945 - the day that Lt. Holt, Cdr. Drake, and crew #4 were lost - my dad was on one of these other assignments. Consequently, my dad survived the war.

When this plane first went down, it's fate was unknown; the squadron didn't what happened to it, they didn't have any specific location information nor any reports of hostile action. The plane just didn't return from its mission. The crew and Cdr. Drake were listed as MIA through the end of the war. It wasn't until after the war that the wreckage of the plane and the crew remains were located. …
His wife, Catherine, was listed as next of kin; he was also survived by a son, who was born in 1934 while Max was stationed at NAS Pensacola, Florida. He is buried in Arlington National Cemetery.
He earned his wings as naval aviator #3968 on January 27, 1933.
Max is listed on the killed in action panel at the front of Memorial Hall.
Harrington is one of 51 members of the Class of 1931 on Virtual Memorial Hall.