HARRY E. HUBBARD, CDR, USN
From USNA Virtual Memorial Hall
Lucky Bag
From the 1925 Lucky Bag:
Loss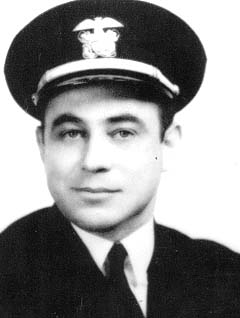 Harry was lost on October 16, 1942, the morning after USS Meredith (DD 434) was sunk by Japanese air attack. He was the ship's commanding officer since March 2, 1942.
His wife, Erma, was listed as next of kin; he was also survived by a daughter, Jean. Erma was later an outspoken advocate for survivors, testifying before Congress and advocating for the passage of the Dependent's Indemnity Compensation Act of 1958.
His memorial at the Manila American Cemetery and Memorial, Philippines.
Biography
From Navsource:
Harry Ensor Hubbard was born 18 March 1903 in Baltimore, Md. He graduated from the Naval Academy in June 1925, served 3 years in battleship Maryland, then qualified in submarines at New London, Conn. Following duty in submarine 8-34, he completed Naval Academy postgraduate work, then served in submarine tender Holland, and, was executive officer of destroyer Twiggs. He served at the Naval Torpedo Station at Newport, then commanded destroyer Roper 1939 to 1940, before assignment as staff gunnery officer for destroyers In the Atlantic. The latter duty terminated 1 March 1942 when Hubbard took command of destroyer Meredith (DD-434).

In command of Meredith, Hubbard helped screen carrier Hornet off Japan for the famed Doolittle bombing raids on Tokyo 18 April 1942. Thereafter he conned his destroyer on arduous patrol and escort from Hawaii to the Samoan, Fiji, and Solomon Islands. His destroyer helped cover transports landing reinforcements on bitterly contested Guadalcanal 18 September 1942. During the darkest days of the Solomons Campaign Hubbard joined in maintaining the lifeline of supplies to fighting men holding their ground on Guadalcanal.

On 15 October 1942 he fought his ship against Japanese carrier-based scouting planes, then fought off 18 enemy dive bombers and 12 torpedo planes launched by Japanese aircraft carrier Zuikaku. His gunners shot down five of the attackers, all the destroyermen following the example of Hubbard who carried on the fight though blinded by burns about his face. When his men had cleared the bridge, he abandoned the sinking Meredith scant moments before she made her final plunge. He perished on a life raft at sea the morning of 16 October 1942. The heroic stand of Commander Hubbard and his destroyerman had drawn the enemy aircraft away from ships who made it to Guadalcanal with munitions and desperately needed supplies.
Namesake
USS Harry E. Hubbard (DD 748) was named for Harry; the ship was sponsored by his daughter, Jean.
Harry is one of 30 members of the Class of 1925 on Virtual Memorial Hall.