LYMAN K. SWENSON, CAPT, USN
From USNA Virtual Memorial Hall
Lucky Bag
From the 1916 Lucky Bag:
Loss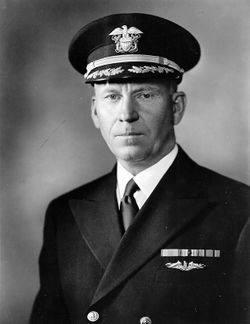 Lyman was lost when USS Juneau (CL 52) was sunk at the Naval Battle of Guadalcanal on November 13, 1942. He was the ship's first and only commanding officer.
His (2nd) wife, Lauretta, was listed as next of kin.
Personal Life
Lyman was previously married to Milo Abercrombie; they had two children together. The marriage ended in 1925 and turned incredibly bitter, including Milo making accusations of molestation. Lyman was awarded sole custody of the children (Cecilia and Lyman Jr.) by the California Appellate Court in 1929.
Career
From Wikipedia:
Swenson was born in Pleasant Grove, Utah and graduated from the Naval Academy on June 2, 1916. After service on board Vermont (BB-20) and USS Denver (C-14), he prepared for submarine duty. After serving on board USS D-1 (SS-17) during World War I, he was given command of H-6, 26 May 1919.

In 1921 he returned to surface ships, serving in USS Arkansas (BB-33) and USS New Mexico (BB-40), before commanding Isabel (PY-10) and then Destroyer Division 64. Juneau (CL-52) came under his command 18 December 1941 while still under construction. The newly promoted captain and the newly built light cruiser were both lost in the latter stage of the Naval Battle of Guadalcanal 13 November 1942. Twice torpedoed during what historian S. E. Morison called the "wildest most desperate sea fight since Jutland", Juneau sank rapidly, taking under the captain and most of her crew, including the five Sullivan brothers. This battle prevented the Japanese from landing reinforcements on Guadalcanal.
From Hall of Valor:
The President of the United States of America takes pride in presenting the Navy Cross (Posthumously) to Captain Lyman Knute Swenson (NSN: 0-9624), United States Navy, for extraordinary heroism and distinguished service in the line of his profession as Commanding Officer of the Light Cruiser U.S.S. JUNEAU (CL-52), during an engagement with Japanese naval forces near Savo Island on the night of 12 - 13 November, 1942. On this occasion the force to which Captain Swenson was attached engaged at close quarters and defeated a superior enemy force, inflicting heavy damage upon them and preventing the accomplishment of their intended mission. This daring and intrepid attack, brilliantly executed, led to a great victory for his country's forces. By his indomitable fighting spirit, expert seamanship, and gallant devotion to duty, Captain Swenson contributed largely to the success of the battle and upheld the highest traditions of the United States Naval Service.

General Orders: Bureau of Naval Personnel Information Bulletin No. 313 (April 1943)
Service: Navy
Division: U.S.S. Juneau (CL-52)

Namesake
USS Lyman K. Swenson (DD 729) was named for Lyman; the ship was sponsored by his daughter.
Related Articles
Albert Rooks '14 was also on the staff of the Twelfth Naval District in December 1923.
Lyman is one of 16 members of the Class of 1916 on Virtual Memorial Hall.