HUBERT M. HAYTER, LCDR, USN
From USNA Virtual Memorial Hall
Lucky Bag
From the 1924 Lucky Bag:
Loss
Hubert was lost on November 30, 1942 when USS New Orleans (CA 32) was heavily damaged at the Battle of Tassafaronga.
The Damage Control Officer on the New Orleans, Lieutenant Commander Hubert M. Hayter, and two of his men, Lieutenant Richard Haines '28 and Ensign Andrew L. Forman, remained at their damage control posts despite the fact that it was filling up with toxic fumes. These three brave men were eventually asphyxiated by the fumes and perished. The ship's chaplain, Howell M. Forgy, later wrote about Hayter, "I wondered what he thought about in those final minutes, but I knew one thing: he was not afraid."
His wife was listed as next of kin; he was also survived by a son and two daughters. Hubert is buried in Arlington National Cemetery.
Career
Hubert was commanding officer of USS Ramsay (DM 16) from September 1939 through February 1941.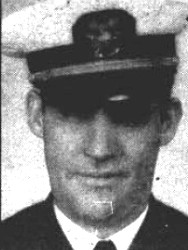 From Hall of Valor:
The President of the United States of America takes pride in presenting the Navy Cross (Posthumously) to Lieutenant Commander Hubert Montgomery Hayter, United States Navy, for extraordinary heroism and distinguished service in the line of his profession as a Damage Control Officer aboard the Heavy Cruiser U.S.S. NEW ORLEANS (CA-32), in action against the Japanese after the torpedoing of his ship in enemy-controlled waters during the Battle of Tassafaronga on the night of 30 November 1942. Lieutenant Commander Hayter directed the evacuation of all men when a torpedo hit exploded the magazine and gasoline storage. Although rapidly becoming affected by asphyxiating gas, he continued to direct evacuation and gave his own mask to an affected seaman. After clearing all compartments, he kept at his duties until overcome. The conduct of Lieutenant Commander Hayter throughout this action reflects great credit upon himself, and was in keeping with the highest traditions of the United States Naval Service.

General Orders: Bureau of Naval Personnel Information Bulletin No. 328 (July 1944)
Service: Navy
Division: U.S.S. New Orleans (CA-32)
Namesake
USS Hayter (DE 212) was named for Hubert; the ship was sponsored by his widow, Maurine.
Hubert is one of 41 members of the Class of 1924 on Virtual Memorial Hall.