RALPH HICKOX, LCDR, USN
From USNA Virtual Memorial Hall
Lucky Bag
From the 1927 Lucky Bag:
Biography & Loss
From Navsource:
Ralph Hickox was born 29 August 1903 in Washington D.C. Enlisting in the United States Marine Corps 23 September 1921, he was appointed to Annapolis 18 July 1923 and commissioned ensign 2 June 1927. In the peacetime Navy Hickox served in a variety of ships and stations and was finally appointed commanding officer of the destroyer USS Truxtun (DD-229) on 3 October 1941. He had been commissioned lieutenant commander 1 July of that year. When his ship went aground in heavy seas off St. Lawrence, Newfoundland, 18 February 1942, Lt. Comdr. Hickox remained on the bridge directing rescue operations in a cool and fearless manner which inspired the officers and men under him and was instrumental in effecting the rescue of many of the members of his crew. Tragically Lt. Commander Hickox was swept from the bridge by the pounding seas and lost. 119 members of her crew lost their lives in the heavy seas and with the assistance of the local residents 33 survivors were rescued.
Ralph was lost when USS Truxtun (DD 229) grounded in Newfoundland on February 18, 1942. He was the ship's commanding officer since October 3, 1941.
The book "Standing Into Danger" by Cassie Brown detail's Truxtun's loss, as well as the loss of USS Pollux (AKS 2) and USS Wilkes (DD 441). The website "Dead Reckoning: The Pollux-Truxtun Disaster" is also devoted to the topic.
His wife was listed as next of kin. He is buried in Arlington National Cemetery.
Namesake
USS Hickox (DD 673) was named for Ralph; the ship was sponsored by his widow.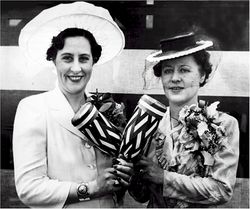 Related Articles
Elmer D. Anderson '35, James W. Danforth '38, and Arthur L. Newman '34 were also lost when the Truxton was grounded.
Ralph is one of 43 members of the Class of 1927 on Virtual Memorial Hall.