JOSEPH H. PATTERSON, LTJG, USN
From USNA Virtual Memorial Hall
Date of birth: August 15, 1912
Date of death: May 23, 1939
Age: 26
Lucky Bag
From the 1936 Lucky Bag:
Loss
Joe was lost when USS Squalus (SS 192) sank on May 23, 1939 during a test dive.
From Arlington National Cemetery.net:
After graduation from the U.S. Naval Academy in 1936, he served for nearly two years in the heavy cruiser USS Louisville (CA-28) before receiving submarine instruction.

Assigned to the new submarine USS Squalus (SS-192), he lost his life when she accidentally sank on 23 May 1939.

Ensign Patterson was promoted posthumously to the rank of Lieutenant (Junior Grade).
(Note: Squalus was raised and recommissioned as Sailfish)
Other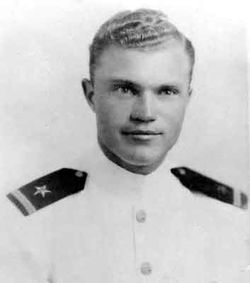 From MISCELLANEOUS MUSINGS OF AN OCCASIONAL LOAFER:
While attending a performance at the Classen School of Advanced Studies (which included one of my son's friends), I noticed that there was a plaque on the wall, across from the main entrance, partially covered with posters advertising the school's yearbook and another proclaiming how much they love their Lady Comets.

Gently lifting back the tape stuck to this plaque, I found it was a memorial to Lt. Joseph Hester Patterson, US Naval Academy Class of 1936, and Classen High School Class of 1930, who was lost in the wreck of the USS Squalus in May 1939.

Now, anyone who knows much of anything about submarines will recognize the name USS Squalus. At the time it was the newest submarine in the fleet, with all the latest improvements and newest technology of the day. However, it sank off the coast of Portsmouth, NH, on a routine dive. 26 of the 59 aboard her were lost; the remaining 33 were saved in one of the more amazing feats of undersea rescue ever attempted.

…

Now, I cannot know why the Classen High Class of 1950 chose to have a plaque made and installed for a classmate who graduated from their school two years before they were born. The plaque states that he was a hero in death as much as he was a friend in life. And I cannot dispute the fact that, for whatever reason, the Class of 1950 felt strongly enough to honor Lt. Patterson in such a manner. That reason must have been sufficient in their eyes to pass on the legacy of Joseph Patterson to future students in perpetuity; that his life, and the manner of his death, should be something worthy to inspire and motivate future graduates of that fine institution.

…
Joseph is one of 39 members of the Class of 1936 on Virtual Memorial Hall.